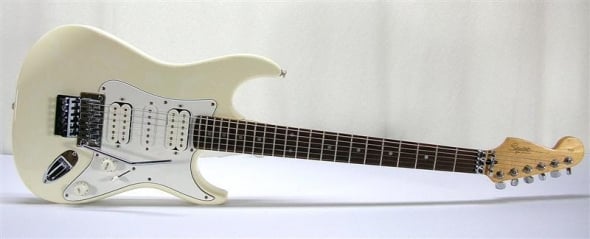 Squier Stagemaster is a uniquely different tailor of the typical Fender Stratocaster guitar. The Squier Stagemaster is made explicitly for the rocker players alike. With its sleek Strat body design, reverse Fender-shaped headstock and its drive-bombing License Floyd Rose double-locking tremolo system, the Stagemaster spells "flash" with all of its humbling features.
Much like Fender's Fat Strat, the Stagemaster guitar is equipped with a lustrous hardwood body, smooth-shredder-fast maple neck. The neck is much thinner than the typical C-shaped Stratocaster and with its reverse headstock, the guitar has appeal and zazz. Playing it feels like Jimi Hendrix's reversed Stratocaster; for his left hand playing–however, the Stagemaster is a right hand guitar. Whats more, the Stagemaster is equipped with a solid Rosewood fingerboard (12.6″ radius) and 22 frets. The die-cast machine head tuning pegs are what you'd expect from a guitar with Fender's name on it. The pickups are a bit bland, but certainly not bad for a guitar in this price range. The pickups are managed with its 5-way selector switch, master volume and a single tone control.
The Squier Stagemaster, in a way, reminds me of a low-line version of Dave Murray's [guitarist of Iron Maiden] 1957 Stratocaster. Dave Murray notoriously used his '57 Stratocaster back in the late 70's through the 80's. Like the Stagemaster, his 1957 Strat was equipped with a Floyd Rose double-locking tremolo system, HSH pickup configuration and a maple neck with a rosewood fretboard . However, his legendary Strat did not have a reverse headstock or a thin (fast) design-neck-shape. His guitar was black with a white pick guard (not to mention, Dave replaced the original Fender pickups with DiMarzio humbuckers to "fatten up the sound").
The Stagemaster, though no longer in production [info that we can find is the last year made was 2001], was available in three different pickup configurations. The Stagemaster HSS features a scorching humbucker in the bridge position and two hot single-coils in the middle and neck with 5-way switching. While the HH features dual humbuckers and 3-way switching, and last but not least, the HSH has dual humbuckers and one single-coil pickup in the middle. The color options for the Fender Squire Stagemaster was: Frost Red, Polar White, Cobalt Blue Metallic, balck and Galactic Purple.
Squier Stagemaster
Originally postd Feb 23, 2009 @ 23:57