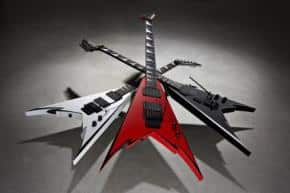 Phil Demmel of Machine Head teamed with Jackson Guitars and integrated an element of masochism to conceive a dangerous new breed. Demmel's legendary riffs smash us over the head like an annihilated sledgehammer, slaying our eardrums for a diabolic revelation, knocking out our teeth from an infuriated mosh pit…allowing us to stumble home with a grin plastered on our toothless bloodied face. Would it be sweet if you could abuse your audience like that? Guess what, you can.
Look at the company for bringing us all this brutal carnage; Jackson Guitars with the Jackson Demmelition King V. There's nothing timid or reserved about the Demmelition's bombastic, bowel loosening assault, yet it's very tonally balanced instrument. Part of Demmel's sound requires a special guitar characteristic to help create his super-vintage yet modern-vintage assault.
"You don't mess around with the Demmel-ition man," retorts Jackson on the official website, which is a fair statement, with the Demmelition using dangerous-pointed metal-sadistic jagged cutouts. The standard King V shape guitar is more than an axe, it's a weapon.
The Demmelition comes from the factory loaded with massive .011 – .056 GHS Boomers drop-tuned to B. For added stability and sustain, the Demmelition is constructed with neck-through-body, the maple neck is quarter-sawn to protect against warping and twisting featuring a bound compound-radius ebony fretboard. The compound radius begins a 12-inches and flattens gradually to a hammer-friendly 16-inches above the 12th fret. The Demmelition sports 24 jumbo frets, mother-of-pearl shark fin position inlays and black-bound headstock with an inlaid mother-of-pearl Jackson logo.
A classic set of active-metal-style pickups–EMG-81 (bridge) and a EMG-60 (neck)–delivers relentless power, detuned clarity and precision punch. Although you would normally see the EMG-81 paired with an 85 in the neck position, the ceramic-based model 60 is an excellent choice if you yearn for destructive rhythm tones and wailing neck leads from the heavy gauge strings. Each pickup is hardwired directly to its own volume pot (the Demmel does not employ any tone knobs), and a three-way blade lets you select each pickups or blend the combination together. An Original Floyd Rose (OFR) double locking tremolo divulges a classic metallic resonance upon the mischievous King V.
The Jackson Demmelition King V is a wicked-winged flyer that is purposely built for high gain, intense chunky lows and greasy-thick leads. All the while, the instruments maple neck-through construction, ebony fret board and ceramic active EMGs deliver enough treble enhancement to define the Demmelition's underlining powerful detuned thick-bass tones make this guitar screaming with a vengeance high-end tones part of the axes personality.
Through a high-gain amplifier, like a Mesa Boogie Dual Recto, the Demmelition sent a holocaust of sound across the stage that enticed a Tyrannosaurus-Rex-like-roar overtones when I chugged on some power chords or drive-bombed the low B string. In addition to its behemoth tone, the Demmelition produced incredible sustain in the higher-note, allowing upper-pitch-bends to be held for well over 20 seconds! The EMG pickups had no issues delivering clean and warm tones that sound absolutely natural.
The End Line-
If you are a guitarists which desires an extreme machine that is capable of delivering ultimate heavy tones, then look no further, the Jackson Demmelition Phil Demmel signature guitar is your fix. The name says it all: brutal assaults, unrivaled destructive power, bone-crunching lows, relentless sustain and honorable Jackson Soloist style playability.
Jackson Demmelition King V