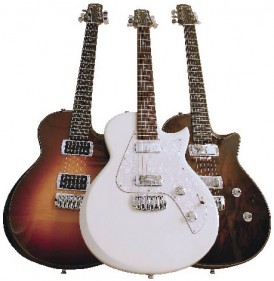 Taylor's divers line of electrics deliver a heap of fresh tones for every type of player. Breakthrough pickups, tone-shaping control and unmatched playability will redefine what an electric guitar can do in your hands.
The SolidBody Guitars were built around fresh pickup designs that blend vintage tones with amp-driving power. Choose from mini and full-sized humbuckers and noiseless single coils. A sleek, ultra adjustable bridge (with an optional tremolo) locks your intonation in place. Choose from several exotic wood top choices or tap into a rich palette of colors. All pickups are solderless and can easily be swapped out with other Taylor pickups.
The T3 soups up the semi-hollow sound and adds a touch of chrome-kissed style. The high-def humbuckers feature a coil-splitting function that uncorks killer single coil tones. A push/pull tone knob dials up even more sonic nuances, from classic rock to a warm, fat sound. Choose from a stop tailpiece or a Bigsby vibrato, each paired with a roller bridge for perfect intonation. Offered with a quilted maple top with several color and sunburst options.
The T5 electric/acoustic hybrid is the ideal tool for blending electric and acoustic textures. The hollow body features two Taylor humbuckers and a magnetic acoustic sensor inspired by Taylor's Expression System pickup. A five-way switch lets you shift between clean acoustic and full-crunch electric tones, or blend them with an A/B/Both box. Choose from an assortment of top woods and color options. If you haven't tried a Taylor electric, you're missing out on a whole new tonal experience. Learn more at taylorguitars.com.
Check for prices