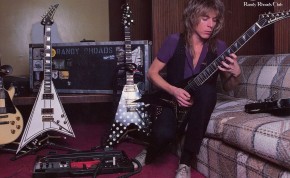 As many know, Jackson Guitars started when the heavy metal wave was on its peak. Grover Jackson first in-scripted his name on a guitar that was designed by the late Randy Rhoads in 1980, when he was still teamed up with Charvel guitars. The reason behind this was that Jackson thought that a guitar with such design would be too shocking for the regular Charvel customers.
The success of the first guitar can be at least partially attributed to its remarkable looks – a distinct reverse headstock and a sharp, triangular body shape. It remains, however, a true favorite among heavy metal guitar players, such as Kirk Hammett of Metallica, Adrian Smith of Iron Maiden, Phil Campbell of Motörhead, and many, many others.
The Jackson Randy Rhoads guitar inspired Grover to create his own guitar company, Jackson Guitars. The famous Randy Rhoads model is still an icon among heavy metal guitar players and is still produced by Jackson Guitars up to date–even though the company is in other hands now.
From 1979 to 1986, the company manufactured guitars in Glendora, California, but merged with the Texan IMC (International Music Corporation) and moved to Ontario in the same state. Although merged with another company, Jackson Guitars didn't make their fans weep in sorrow and released the famous King V model the same year. King V, originally designed for Robbin Crosby of Ratt, followed the extravagant heavy metal designs of their previous models, and was praised by musicians such as Dave Mustaine of Megadeth.
In 2002, Jackson Guitars was acquired by Fender. A subsequent move to Corona occurred. This acquisition left the company with very few endorsement deals, and a decrease in popularity followed thereafter. The down-spiral of Jackson Guitars met a quick finish, though, because guitarists saw that Jacksons were in fact still good instruments — high-end guitars with an affordable price –- despite the fact that the company was under Fender's control.
Today, Jackson Guitars continue to supply extreme high-quality guitar lines for their fan crowd. As the company states in its homepage, "In keeping with its breathtaking three-decade heritage of excellence, the Jackson legend continues to thrive and grow–without fear or compromise." –
Check out the great prices and bargains on Jackson guitars!