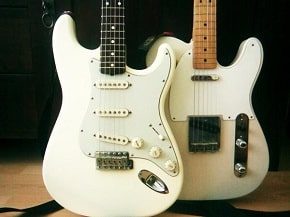 It may seem quite the stretch to lump bass fishing, guitars and eBay all into one simple concept, but it can be done with some patience and plenty of hydration. Anyone who understands the predator-fish that is the large-mouthed bass knows that they don't exactly go out and forage for their food. They prefer to hide in the murky shadows and ambush their unsuspecting prey. Some bass, though, are even lazier than that. They'll hang around culverts, fish ladders or creek inlets, letting their meals drift down to them. Then they'll make the most of their opportunities until their bellies are full (or, as it often happens, until they get an angler's hook sunk into their lip).
For those who are willing to take a chance on buying a guitar, whether it be best cheap guitar or an expensive one, without ever holding it in their hands (much less playing it), this same non-limbic strategy can be quite useful when applied to the science – or art, depending on your viewpoint – of shopping online. Since eBay is the most widely known and frequently used website for overall six-string hunting (as opposed to going straight to one retailer, like Musician's Friend, or to one company, like B.C. Rich), that will suffice as an example of this bass-brain approach to guitar acquisition. Just like our proverbial fish, a motivated shopper can simply search for "guitar" under the Musical Instruments category, and then view those items that are ending soonest. This gives the consumer the ability to take the last swipe at guitars as the clock runs out on them.
With hundreds of thousands of items involved in such an open-ended search, one has to understand that things will be happening quickly. Every few seconds another guitar falls off the board. The variety is simply amazing, which is a good thing for those who don't have their minds set on one specific product. Sure to whet any player's appetite, the following are examples of what kind of treasures come drifting downstream to those who have the temerity to sit and wait. Bass guitars, amplifiers and other guitar gear are excluded, as are those musical instruments that are essentially duplicates, for the purposes of this fishy demonstration. Here, then, are 10 great guitars that went by in virtually 10 minutes:
1. 38″ Black Beginner Guitar. This little lute comes to America straight from the shores of China. Made out of willow, this acoustic classical-style guitar comes with strings and a pick, well-packaged in a strong paper box. It has a high-gloss finish, and is billed as being "perfect for students or guitar lovers", and one of the best cheap acoustic guitars out there.  Only one person bid on this guitar before the listing expired, with the final price being a veritable blue-light special at $19.98 (plus another ten bucks for shipping and handling). It ships out of Brooklyn, New York, and can be expected to arrive in two to six business days.
2. Taylor T3 Semi-Hollow Body Electric Guitar. Although Taylor is better known for its fine acoustic guitars, the T3 is one that no collector would kick out of bed for eating crackers. This one has a sapele body and neck, with a quilted maple top and ebony fret board – striking, attractive. It is similar in design to the Les Paul, only with slim cutaways, but featuring the same "moustache" headstock, humbucking pickups (with a coil-splitting master volume pull knob) and a Tune-o-Matic bridge. This beautiful, honey-burst Taylor T3 was listed for $1,899 including the hard-shell case. The deal was sweetened by the free shipping from the Midwest. This guitar is considered one of the best cheap hollowbody guitars on the market.. at least for those who are looking for quality guitars.
3. Fender Squier Stratocaster with Crate Amp. This is a listing for a used guitar, described as "a solid starter axe with a tremolo bar". With a 42mm-thick basswood body (gloss black), maple neck and rosewood fret board, this Squier is set up in the classic Strat style with three single-coil pickups and a five-channel blade switch. It features chrome hardware and a one-ply white pick guard. It has 21 medium-jumbo frets and comes with a Crate practice amp (wattage not specified). Five people put in bids for this guitar, with the final sale price landing at $58, only slightly more than the $40 the buyer pays for shipping and handling, coming out of Frisco, Texas (for anyone wanting to pick the item up locally). This guitar is my official pick for the best cheap guitar, you can't go wrong with a Squier guitar if you are a beginner guitarist.
4. Fender American Telecaster '52 Re-issue, Left-Handed. Offered only as a Buy-It-Now, this classic American southpaw has the same features as its 1952 namesake. That means the single-coil bridge pickup paired with a single-coil lipstick, a one-piece ash body with black pick guard, an "ashtray" bridge with triple brass saddles – all brand new and under factory warranty. It even includes a spare wiring harness and six-saddle bridge for those who want to break out the tools and switch things around. Sold by Will Cutt Guitars in Lexington, Kentucky, this sweet butterscotch Lefty had a price tag of $1,599.99 (with free shipping). Not the best cheap guitar, but a good moderate level guitar for those with experience… and left handed.
5. American Standard Stratocaster, Lake Placid Blue. Here's another left-handed, Buy-It-Now Fender, this one a Standard Strat, with a solid alder body, maple neck and rosewood fret board. The triple-single pickup configuration includes Fender's patented Delta Tone setting, with a high-output bridge pickup and special "no-load" tone control for the middle and bridge. Fender hardware includes sealed chrome tuners and 2-point tremolo bridge, bent-steel saddles and a three-ply parchment pick guard. This particular model is one of only 250 made by Fender, offered at a great price by Roxy Music Shop in Indiana: $999 including shipping. Not a bad guitar, but I wouldn't consider it a cheap guitar.
6. Egmond 1960s Arched Top F Hole Electric Guitar. Here's one for the collection. Other than some small, character-providing scratches and nicks, this old axe is in pretty decent shape. Made in Holland, the Egmond brand (though not this specific model, serial number 30350203) was an early favorite of Beatles Paul McCartney and George Harrison. A single, chrome-clad pickup – apparently a P90 – shines out of the midst of the vintage tobacco burst, with the F-hole cutouts and tailpiece providing extra resonance and sustain. All original, all complete, this Egmond went to a single bidder for $199. Shipping (from Bangor, Maine) came to a very reasonable $16.78. This is a good playing cheap guitar, but not the best. It gets the job done for those new guitarists.
7. PRS SE Custom 22. From Paul Reed Smith's shop in South Korea comes this aggressive electric guitar. Its shape and color make it stand out among its peers in any setting. The flamed maple top smolders beneath the lacquered teal finish, the zebra humbucker pickups sizzle just like they should, and the solid mahogany Strat-style body is just stunning. PRS also keeps things simple on the SE Custom 22, drawing a wide range of tones from a single controller (with a single volume knob as well). The winning bid, including shipping, for this used guitar and gig bag was $510 – less than most retailers would ask for this model. For the money, the best cheap guitar, but I am personally not a fan of PRS Guitars.
8. Ovation CC44 Celebrity Deluxe. This Ovation is as versatile as it is eye-catching, with its cherry burst finish, burled maple top and Ovation's signature bowl-shaped composite body. This particular Ovation acoustic/electric lacks a traditional center-positioned sound-hole, with multiple holes projecting the tone from up around the top of the body (within and opposite the cutaway horn). The slim-line pickup and OP4BT preamp provide the electric punch to go with the attractive abalone inlays, gold tuning pegs and gold-foil logo. The Buy-It-Now price was $506 plus $40 shipping and handling, with an Epiphone hard-shell case included. This is one ugly guitar, but the price of the guitar isn't too bad.
9. Ibanez RG770dx Ruby Red Re-issue. Made in 2008 but featuring the original 1987 Wizard neck and Edge tremolo, this screaming guitar lends itself to playing styles across the board, from blues to rock to metal. The red shark-tooth inlays all but jump off the bound maple fret board. The red-hot DiMarzio pickups (two humbuckers with a single in the middle) swim in the ruby red body, a paint job so bright that motorists will slam on their brakes when they see it. The total package all comes together to inspire even the most laconic of "folkies" to step on the gas, grab that neck and start shredding. With a couple of minor cosmetic flaws, the seller of this guitar still asked $1,200, plus $55 more for shipping out of fabulous Las Vegas, Nevada. This is one of the harder to find guitars, but if you do, buy it!
10. 1960s Teisco DEL RAY ET-200 Sunburst. People used to joke about how easy it was to find a Teisco (the most common model being the Del Ray). You could go all the way to the Goodwill store to get one, or you could hit the nearest yard sale, or just look in most any dumpster. Not anymore; the tulip-shaped bodies, the "cheese grater" pickups and the vintage feel of Japan's Flower Power-era electric guitar efforts make the Teisco a sought-after collector's item. This one is in excellent condition, with the serial number sticker still on the back of the C-style headstock, and it even comes with the original hard-shell case. It is described as having been sitting in a closet (in Walden, New York) for the last 30 years. No fewer than 13 bidders went after this little guitar, with the lucky winner paying $255 and another $25 for shipping and handling. Something about this guitar that screams play me… but damn is it one ugly guitar!