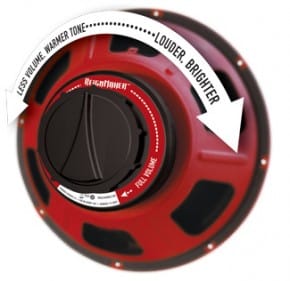 Guitar players, here's the low down about sound. You can change your guitar, your pickups, your strings, your amp, your tubes, and heck, you can even change your girlfriend, but nothing will make as much of a difference in your sound than your speaker. A simple upgrade to a quality speaker that matches your playing style can make a huge difference in your tone and ensure that the last link from you to your audience is the strongest.
Enter Eminence — The Art and Science of Sound
The Eminence Patriot and Legend Series features a full range of classic American tones, from a throaty blues wail, to the roaring audio assault that powered USA born garage bands and metal maniacs from clubs to concert halls. The Eminence Red Coat Series is designed with cones and components that deliver that distinctively British midrange growl that has fueled rock & roll for decades.
And true to its reputation as the industry leader in guitar speaker design and innovation, Eminence has just released the world's only speaker with Flux Density Modulation (FDM) technology. The Maverick (USA voice) and ReignMaker (British voice) feature the patent-pending Eminence FDM motor that gives you complete control over the speaker's output level, associated distortion, and tonal balance. A simple twist of the knob mechanically alters the magnetic flux path within the speaker's motor structure, which allows you to find that sweet spot of warm, saturated tube tone, but at a significantly lower volume. Check for prices.
About Eminence Speaker Company
Eminence is America's premier speaker manufacturer, with a history of innovation, performance, and quality backed by a seven year warranty. Every Genuine Eminence replacement speaker is designed, hand-built and tested by the speaker professionals in Eminence, Kentucky. Visit: Gear-Monkey.com Guitars & Amplifier Message Forum
Eminence Maverick