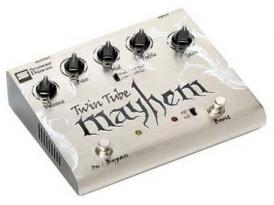 I'm always excited when new pedals are released. One of the more recent releases was Seymour Duncan's Twin Tube Mayhem SFX-04, which is a balls-to-the-wall full-range tube driven distortion pedal jam-packed with welcoming features. It comes with your standard EQ–Treble, Mid, and Bass controls but a great added feature is the mid boost switch from 600hz to 1.4khz. The Mayhem also has a foot-switchable boost that you can set to either +4dB or +8dB. Loaded with gain, the Mayhem is perfect for hard rock, old school metal to death metal and everything in between.
Application
Rugged High-Quality guitar preamp with built in 4dB or 8dB boost. The Mayhem uses a duet of premium, mil-spec, subminiature, USA-made Phillips-Sylvania 62051 pentode preamp-tubes. Perfect for hard rock, new metal, thrash, death and doom.
Description
The high plate voltage and 100% vacuum tube signal path allow the preamp-tubes to operate at their fullest potential and provide maximum dynamic range. Additional gain is achieved with a high voltage, low noise, discrete Class A input stage. The solid state input stage increases the resistance of the stomp-box to microphonics. The result is maximum dynamic range, the most gain, and the heaviest tone you would expect from a great tube preamp voiced for hard rock and metal. Also features user-selectable 4dB or 8dB boost for pre-setting rhythm and lead levels. True bypass. Fully encapsulated toroidal transformer for quiet operation. As expected, you can trust that the Seymour Duncan Mayhem is built with a rugged heavy duty steel chassis, with the hardcore guitarist in mind.