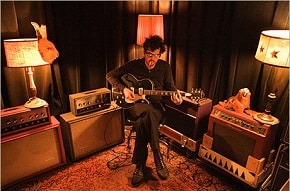 Tone is one of those things that guitarists look for, long for and obsess over. Non-guitarists often don't understand our mania for it and our ability to split endless hairs in pursuit of it. We all have our tonal benchmarks that set our ears ablaze and gave us something to aim for in our lives, and it is always interesting to find out what tones inspire what people out there in Gear-Vault-land. To that end, your ever-grooving staff here at GV has compiled a list of favorite guitar tones from the 1950's-1980's classic rock period that got most of us going on the tone questing lifestyle. It will surely cause much discussion and argument amongst all of you, but that is kind of the point. Let us know your favorites, too, as we like to keep these conversations going and see who all of you dig. Here goes nothing (in no particular order):
1 – Danny Cedrone on "Rock Around The Clock" by Bill Halley and the Comets – Perhaps the first rock shredder, Cedrone's solo on "Rock Around The Clock" set the bar high for rock and roll players in both tone and performance. Cedrone died shortly after tracking it, which is sad, as who knows what else he might have done.
2 – Stevie Ray Vaughn – "Pride And Joy" – Texas blues tone personified. Vaughn came into most of our worlds with this tune and tone and it is still one of his best cuts.
3 – Eddie Van Halen – Anything on "Van Halen I" – Eddie's first album gave us all the "Brown Sound", which is, to me, still the best Marshall amp sound ever put to tape. Go on YouTube and listen to Eddie's guitar tracks isolated and just bask in the glory of it all.
4 – Eric Johnson "Cliffs Of Dover" – Another tone that launched 1000 ships, Johnson and his 50's Strat are smooth as silk yet still full of power. Many consider him the ultimate Stratocaster guy and this track gives much credence to that opinion.
5 – Carlos Santana "Black Magic Woman" – Carlos has always defined the type of sustaining, singing guitar tone many of us aim for and this is one of his early best. His sound has changed over the years, but this one remains a fave rave.
6 – Brian Setzer – ANY – Best Gretsch Sound Ever. Plus, he seems to be the only man in America who can keep one in tune.
7 – Angus Young – ANY – Young is another one who has truly mastered the Marshall amplifier and his sound over the course of his career has helped to define rock guitar crunch. Listen close: he is less distorted than many think.
8 – Dick Dale "Miserlou" – Dale is one of the most powerful rock guitarists of the pre-Hendrix era and his tone has always been raging and wonderful, thanks to the Showman amps that Leo Fender built for him. This is one of the most iconic and unique guitar tracks in rock history and all should give it a listen.
9 – Jimi Hendrix "The Wind Cries Mary" – Many love hearing Jimi rock, but it is his clean tones I love the most. This is Jimi playing like a Hammond organ player and it is a song a sound that I never get tired of hearing.
10 – Duane Allman "Statesboro Blues" – Duane Allman is still the high-water mark for many in regards to slide guitar and this is one of his best. They say Duane was just trying to sound like Little Walter's harmonica and, if you listen to him with that in mind, it becomes ever more profound.
I am sure all of you will have much to say over these choices and will have picks of your own to offer, so bring the noise and we will have a party. Picking only ten players makes it hard, but also makes it extra personal, as they really have to be favorites to make the list. Watch this space for further discussion on what is sure to be a hot topic. Check out Gear-Vault's top 5 easy guitar songs to learn on electric guitar.