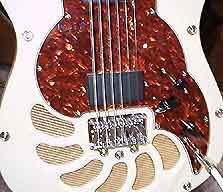 If you've never come across a Baritone guitar, you could be forgiven for being confused by them. Just where do these long-necked axes with six fat-ass strings fit in? The actually live somewhere between a bass and a standard six-string, relating to those instruments much like a viola correlates to the cello and violin. The Fender Bass VI, designed by Leo Fender and introduced in 1961, is often considered the first commercial electric baritone. In actuality, the Bass VI is a short-scale six-string bass, tuned an octave lower than a guitar, with closer string spacing than a standard bass. True baritone guitars are tuned somewhat higher than a bass guitar, with actual tuning determined by their scale, and their use of lighter gauge strings makes them easier to play than basses. And in fact, the tow guitars reviewed here demonstrate the results of different scale lengths and tuning within the baritone family.
The Lindert Twister S baritone is definitely bound to provoke comment, from its faux "speaker-grille" enhanced body to its geek-cool "thumbs-up" headstock. The body is a semi-hollow sandwich built of Tonyte, a dense, acoustically neutral man-made material, with a red, crinkle-finish back and front attached cream-colored sides using unsubtle screws and cup-washers. (The Twister S is also available in a variety of duo-color finishes.) The tweed-backed grille covers both real and faux acoustic chambers, which, combined with vintage-looking chicken-head knobs, could easily incite Grandpa to try tuning in Radio Luxembourg. The three single-coil pickups and master tone and volume controls are well shielded and quietly smooth, and this popular layout does a fine job of capturing those renegade low frequencies with a satisfying range of tonal textures. Should the Lindert's light-hearted design give you pause, be assured that the guitar's build quality is high, benefiting from good fretting and substantial hardware.
Lindert has opted for Leo Fender's original 30" scale but fitted lighter gauge strings to facilitate an A tuning (low to high, A-D-G-B-E-A). The long, bolt-on neck will feel alien to guitarists, but the asymmetrical profile (rounded on the treble side, heavily V-shaped on the bass) makes the heavy strings a comfortable challenge. The Twister S doesn't feel like a bass or a guitar, and it encourages a hybrid style of playing: fast bass runs, ballsy chords and sinewy, low rpm leads. Played dirty or clean, with pick or fingers, the Lindert offered up a wealth of inspiring sounds, including some cool Danelectro trash tones.
WD's Deep Six is quite a different baritone beast. Originally offered as a replacement neck, the Deep Six was available on baritone instruments custom-built from WD's huge range of options. This particular example offers the comfortable, slickly, fretted neck on a seafoam green Tele-style body with a white pearloid pickguard. This traditional recipe has been modified to include heavy-duty, manmade baritone bridge, a Kent Armstrong Hot Rail humbucker at the bridge and a Cool Rail at the neck.
Unlike the Lindert, WD has opted for a shorter, 27-2/3" scale. Fitted with a light-gauge string, the Deep Six accommodated A tunings without feeling overly sloppy and B tunings (low to high, B-E-A-D-F#-B) without being terribly stiff. The instrument's guitar-like feel invites you to treat the WD like a steroid-pumped Tele, and playing shuddering bass riffs under Link Wray style horse-whip leads made for formidable fun. However, you decide to tackle the Deep Six, you'll enjoy more low-end grunt than Lemmy's speech therapist.