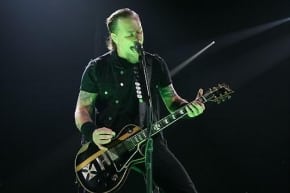 Metallica's rhythm guitarist and singer, James Hetfield, and ESP guitars collaborate to replicate a limited quantity ESP Iron Cross signature guitar. Based on Hetfield's customized 1973 'Iron Cross' Gibson Les Paul, ESP did a wonderful job with the relic finish to look exactly like James' original Iron Cross.
It was officially unveiled at Winter NAMM 2009 in ESP edition only. ESP has no future plans of making an LTD version of the Iron Cross.
Available in limited quantities during 2009 only, the ESP James Hetfield Signature Iron Cross is currently featured on Metallica's 2009 Death Magnetic world tour. Painstaking effort has gone into recreating every nuance and gradation of James' original '73 Gibson Iron Cross, while adding some new characteristics to make it a true unique signature ESP.
The guitar is based on the ESP Eclipse and Truckster models. James relies on this guitar heavily on Metallica's Death Magnetic Tour.
ESP James Hetfield Iron Cross Guitar

NOTE: Toggle in Upper Position Inactive
The ESP Iron Cross has a street price of $9,999
For more information, visit ESP's official website at www.espguitars.com