Rocktron has to be one of the most underrated effects pedals manufactures in the industry, with some of the most competitive prices you'll find in today's bad economic strains. Today we are going to look at three essential effects every guitar player should have in their arsenal: an easy-to-use talkbox, a versatile wah pedal with a built-in MOAN, and the sweet vintage tri-wah pedal.
Banshee Talk Box Guitar Pedal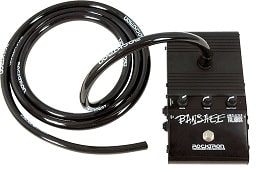 You'll definitively appreciate the simplicity of the Rocktron Banshee 'amplified' talkbox. With its own internal preamp, amplifier and horn driver, you simply plug into the Banshee like you would any common stompbox and run the tubing up your mic stand and into your mouth. The rest is up to your imagination as the Banshee helps you find incredible sounds from your instrument. Anyone could become addicted to this effects pedal.
More about the Rocktron Banshee Talk Box:
The Rocktron Banshee Talk Box brings a new twist to an outdated generation of complicated and risky talk boxes. Banshee is unique because it contains an internal preamp, amplifier, and horn driver. You simply plug into your pedalboard and run the provided tubing up the mic stand and into your mouth. There's no risk of blowing up your favorite amp head (a possibility with talk boxes of yore). The rest is up to your imagination as you generate incredible talking tones. A wide range of clean and dirty preamp tones may be dialed in with plenty of saturation for those who desire lots of gain. Not only does the Banshee scream in the talkbox mode, but it also includes an extra jack for hookup with an extension pedal speaker. Plugging a speaker cab into this output turns your pedalboard into a perfect practice setup with enough volume to seriously crank it. (Includes power supply.)
Banshee Talk Box Demo Video Review
Black Cat Moan Guitar Pedal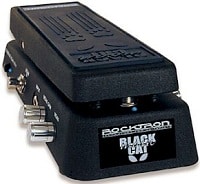 Rocktron brings you a multi-functional wah pedal that also provides a sweepable sonic effect (THE MOAN) which can act as a stand-alone distortion unit that can be combined with the wah! A 3-position selector switch lets you choose three different wah voicings: Normal, Classic and Bass (for drop tuning and for bass guitar). The Black Cat is a versatile wah with the ultimate harmonic intensity, the Moan circuit produces feedback in a pinch with nearly infinite sustain … a must-have pedal.
More about the Rocktron Black Cat Moan:
The best of Rocktron with great wah and great distortion, and sounds good combined. The Black Cat Moan is a multifunctional wah pedal that offers extremely useful and musical features. It accommodates standard guitars, basses, and can jump into a high-distortion mix and really tear things up! Its germanium diodes provide a unique sweepable sonic effect–the Moan–that can act as a standalone distortion or be combined with the wah for an effect that cries harder and sweeter than a baby. The Moan effect will be most apparent when using a heavier distortion. The effect can sometimes be subtle depending on the natural harmonics of your guitar or bass.
The Wah Type Selector Control allows you to select 3 different wah modes–Normal, Classic, and Bass. Once you have selected the type you can also further modify the sound by using the gain and level controls. A pedal rocker tension adjustment screw will allow you to adjust the action of the pedal to suit your taste. While the Cat is an amazing tool for guitar players, if you select the third mode and plug into a bass rig you won't believe how moan-fully sweet it is!
An On/Off switch is located under the toe of the rocker pedal while a side switch is used to turn the Moan effect on or off. The Moan can be used as a standalone distortion or applied to the wah effect using the Combine Moan/Wah switch. Moan Level control adjusts the overall output of the Moan effect when it is activated. Moan Gain Control controls the mid-frequency band pass filter harmonic boost.
Black Cat Moan Demo Video Review
Tri Wah Guitar Pedal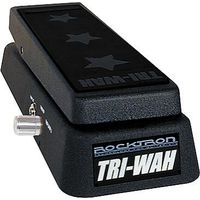 Here's a sweet vintage wah that offers Normal, Classic and Bass (for drop tunings and bass guitar) voicings. You will not believe the price on such a quality wah pedal!
More about the Rocktron Tri-Wah Pedal:
You will love the Rocktron Tri Wah Selectable Mode Wah Pedal with its three-position switch that allows you to choose from normal, classic and bass modes.
The Normal setting offers the frequency sweep that is the industry standard. The Classic setting is a sweet vintage wah that is musical and expressive. The Bass setting is not only designed for bass guitar but also provides the frequency sweep to make drop-tuned and 7-string guitars scream!
Adjustable pedal rocker tension lets you adjust the pedal action for a lighter or heavier touch. The Tri-Wah includes Rocktron's easy access battery compartment which makes changing batteries during a gig a breeze.
The Tri-Wah, as with all wah-wah pedals, should normally be put at the beginning of your signal chain. Although you may place your wah at any place in your signal chain, it usually sounds best at the beginning—directly from your guitar (or bass).
Tri-Wah Pedal Demo Video Review