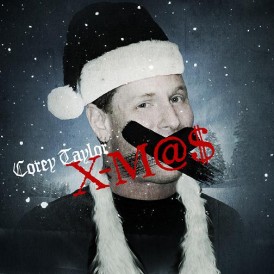 Corey Taylor Releases Christmas Single, singin' "Merry F@cking Christmas". The thought of Stone Sour/Slipknot frontman Corey Taylor doing a Christmas Song is 'bout enough to make everyone cringe. When the news came out that he was working on a dirty (explicit) Christmas single called "X-M@$," hardcore metal purists had their palms primed and ready to smack their forehead in disgust.
Without the accompanying announcement (read below), I'd think Corey felt uneasy and butthurt when it came to Christmas. But as it turns out, the song is quite humorous, which makes it much more accepting.
"I wrote this song in my kitchen one winter, listening to people bitch about the holidays," Taylor explained. "Personally, I love the holidays, but they seem to bring on severe stress in most people. So, I wrote this in honor of crotchety, drunken bastards who don't know the difference between a yuletide and a toolshed. Plus, I think it's funny. I bet the U.K. will too. They're some of my favorite people in the world."
Gotta admit, that was out of the blue. I never thought I'd never see the word "yuletide" come out of Corey's mouth.
Oh, and did I mention that proceeds of this song will go to the Teen Cancer Trust? Help fight cancer and have a few laughs along the way and buy it when it comes out on December 12th.
Here's the YouTube video of the song. Enjoy and prepare your attacks at all the Grinches and Scrooges you come across this season. Now cheer the fuck up, why don't you?
Corey Taylor X-M@$