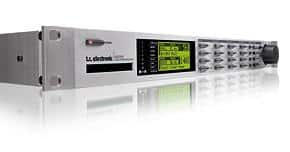 T.C. Electronics has a reputation for making great-sounding processors. Their gear isn't necessarily the easiest to use, and it's certainly not the cheapest. But the products of this Denmark-based manufacturer always exhibit an attention to detail, functionality and overall quality of which few other manufacturers can boast.
The M3000 Studio Reverb Processor fits right in with this aesthetic. The single-space rack unit provides a wealth of effects, including compression, de-essing, chorusing, flanging, tremolo, phasing and pitch shifting. But as the name suggests, the focus here is on the effects that you'll use the most: the reverbs and delays, both of which the M3000 provides in abundance. The M3000's room effects, in particular, are warm and natural, possessing wonderful clarity and adding ambiance to a mix without cluttering it up. You don't hear the reverb as much as get a sense of the sounds existing in an actual space.
With a retail price of $1,799, the M3000 is not aimed at kids with four-track setups. But if you're willing to shell out big bucks for your studio, you'll want to invest in a quality piece of equipment.
Since it is a professional piece of gear, the M3000 connects to a mixer through balanced XLR connections; there are no ¼-inch or RCA connectors here. The unit also offers a variety of digital inputs and outputs (ADAT Tos-link, Wordclock RCA, AES/EBU and S/PDIF), as well as MIDI jacks to communicate with other devices.
Getting the unit up and running was simple. Within a few minutes, I was flipping through presets and listening to a variety of deep, rich, clear reverbs and playing with more dramatic effects combinations, like flangers and phasers.
The front panel is divided into sections, with buttons for general setup (routing, MIDI, I/O, levels), controls for each of the two effects processing engines are linked together and some navigation and editing buttons. The screen is easy to read, but given the M3000's high degree of flexibility, it figures that you'll have to do a fair amount of scrolling and browsing to get to all of the options.
The unit comes programmed with 300 presets, and it's hard to imagine anyone not finding some of them to their own personal taste. However, everyone likes to tweak, so the M3000 also has space for 300 user presets. Editing the presets is fairly simple. A touch of the edit button gives you about nine parameters (depending on the preset), which you modify by scrolling through them and turning the dial. There's also an "expert" mode that gives you a list of adjustments you can make within each preset. Creating your own settings is a little more complicated, especially if you haven't programmed similar effects processors before. Experienced engineers will be able to get through it with the manual, but novices are better off tweaking the factory presets (or, in most cases, just using them as-is).
The M3000 uses T.C.'s VSS3 (Virtual Space Simulator) technology, with 24-bit analog-to-digital and digital-to-analog converters. All you really need to know about the specs is that there's no noise and unbelievable clarity. The two engines can function as two independent processors or be combined and routed in a variety of ways.
The possibilities of what the M3000 can do and how it can be configured are wide open. But in my tests, I got the best results by flipping through the presets (particularly the 50 that combine both engines), finding one that suited a particular application and tweaking it as necessary. Reverbs large and small, delays, phasing effects, tremolo sounds…they're all here. What's more, the M3000 lets you store combinations of pre sets and routing patterns via its recall/snapshot function, set delay times via tap tempo and change effects automatically based on the level of the signal (a little thing called dynamic morphing).
The End Line
Many processors on the market focus on the number of effects they offer and how many you can use at a time. The reality is that in most live or recording situations, you just want a simple reverb that will bring your mix to life. The M3000 offers tons of them, along with the ability to adjust them fairly easily. What's more, it features just about every other studio effect you could need, with high-quality sounds and tasteful presets. Whether you're someone who likes effects and wants to tweak every parameter, or you're just looking for a processor with a few factory presets you'll use time and again, the M3000 has what you need. Buy the T.C. Electronic M3000 Studio Reverb Processor at Musiciansfriend Hot Buys – Recording Gear