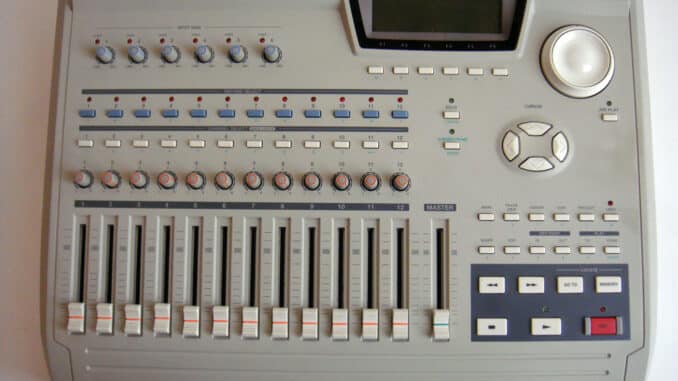 Our final contestant in our recent recorder reviews, the Akai DPS12, is chunkier and shorter than the Fostex DMT-8VL but closer to it than the Korg D8 size.
Instead of relying on a built-in hard drive, the model sent for review incorporates a 1-GB Jaz drive, which is removable and can be replaced if desired. (The DPS12 is available with a built-in hard disk as well.) SCSI, S/P DIF, and RCA outputs are all provided. Recording time capacity varies depending on how many tracks you use at one time.
Besides the Jaz drive, the most obvious difference between the DPS12 and the other two recorders is that it has 12 tracks instead of eight. Its 20-channel board has six ¼-inch balanced inputs, with six corresponding gain knobs to be manipulated according to impedance, and a pair of aux sends. Besides the 12 actual tracks, the DPS12 also boasts a staggering 250 virtual or data storage tracks, which give you the ability to, for example, record four different guitar solos separately (without using four actual tracks) and combine them as you like on one "proper" track later on.
Though it has knobs, faders, and buttons like a tape machine, the DPS12 works a lot more like a computer.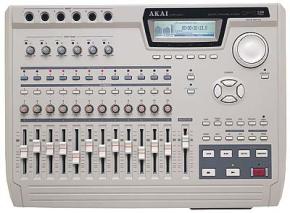 Its center of operations is the display screen, which is just as easy to read as the Fostex's, but a bit smaller, more crowded and less colorful. Governed by six tiny buttons labeled F1 to F6, a quartet of cursor buttons and the jog wheel, the Akai's display is full of hidden menus and sub-menus, making nearly every recording, mixing and editing task a computerized routing adventure. EQ controls are virtual knobs, controlled by the jog wheel, while even something as simple as assigning, say, the input of Channel 1 to a track other than Track 1 is a multi-step process. (The DPS12's default mode is to assign tracks 1-6 in the same consecutive order. If you don't want to be endlessly plugging in and out of the board to record on new tracks, you've got to press the Assign button and delve into the accompanying screen's many layers, which begin to make sense over time but are initially bewildering.)
Like the Korg D8, the Akai is available with a built-in stereo effects processor (as an option). Though the DPS12 offers many more features and more control than either the Fostex DMT-8VL or the Korg D8, it requires a bit more patience and time to master.