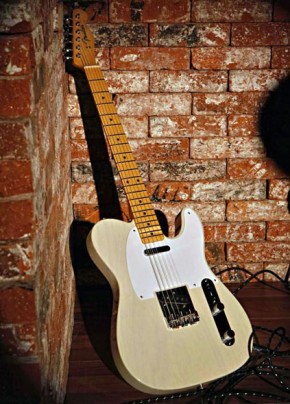 Fender is currently taking pre-orders on the new Jim Campilongo '59 Top-Loader Telecaster. The guitar is a replica of Campilongo's own vintage 1959 Tele that dates from the brief period that Fender changed the Telecaster from a string-through-body design to a string-through-bridge, or "top-loader" design.
The guitar features an extra-lightweight ash body finished in Aged Vintage Blond, a neck and pickups done to Campilongo's own specifications, jumbo frets, a tall top-hat toggle switch, and T-style string tree to facilitate behind-the-nut string bending. The guitar was introduced by the Fender Custom Shop at the 2010 winter NAMM show and is expected to be produced in very low numbers.
As one would expect, being a Custom Shop model (and a very limited one, at that), the Campilongo Tele promises to be, well, not cheap. MAP pricing for this guitar is $4500.00, which instantly puts it out if reach of most working guitarists. It seems to be another in a line of high-end signature guitars put out by Fender and Gibson in some kind of misguided effort to transform from a guitar company to a Nike-style "lifestyle brand" that appeals more to the blues lawyers and GQ-types out there, rather than the generations of street-level guitarists upon whom each company was built.
Jim Campilongo is certainly a guitarist worthy of a signature model. He is a true master of the electric guitar and deserves to be much more famous than he is. The question is why does it have to be a guitar whose price alone assures that most of the instruments produced will never be played? They will hang in some executive's office or home in a glass case, to shown to other rich people as an example of what a real Telecaster is. What would Leo Fender say about that?
Fender Jim Campilongo '59 Telecaster