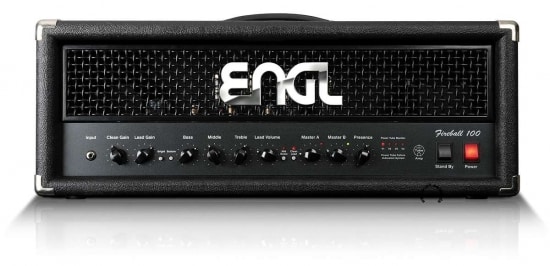 The Engl Fireball head is an amp aimed squarely at rock and metal guitar players. It delivers 60 watts of 6L6 tube power at 8 or 16 ohm and offers users a vast reserve of gain on tap, which makes it a perfect choice for modern players in the heavier styles. It is more than capable of putting out extreme sound pressure levels, all the while maintaining a tight low end and ultra-smooth top end.
The amp gives today's guitarists the tools they need to make their sonic mark on the world. The Fireball is two channels, no frills, and all tone, designed by Engl to be all killer and no filler, which makes it come in at an affordable retail price of $1749.00. It does, however, come with all the notable features Engl is known for, including two master volumes, electronic power amp monitoring, and a variable effects loop.
The whole point of the Fireball is to be heavy, yet distinct and articulate. It gives better-than-average note definition and clarity, which is in stark contrast to the often-muddy Mesa Dual Rectifier sound heard so frequently.
Players of styles like Hardcore, Death Metal, Deathcore, or anything else that kicks hard to the head will most likely find a lot to like here, as these types of guitarists often push their amps to the limit and beyond. This is one that will stand up to the most brutal metal onslaughts and come back asking for more.
The Engl Fireball is a boutique-level amp at a production-line price point, which makes it a bona fide bargain. Those in the market for the right amp for extreme styles of music could do a lot worse that bringing home one of these. Should the Engle Fireball part of one of Gear-Vault's pick as Top Metal Amps? You decide!
Engl Fireball Video Demonstration