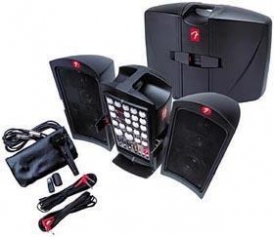 Power Trippers
Anyone who's familiar with PA systems knows how difficult they are to transport and how costly they are to purchase and maintain. In addition to a power amp, mixer, speaker cabinets and microphones, you'll need a pickup truck or van to haul everything around, and major medical insurance to cope with the slipped discs you get carting it all from one gig to another.
Fortunately, someone had the bright idea to take all of a PA's components and pack them into a suite case-sized carton. That someone is Fender, and their Passport PD-150 and PD-250 systems are the company's unique answers to the problems of PA ownership.
The most striking thing about the Passport is their neat interlocking design: both models are enclosed in a tough plastic, pod-like shell, complete with molded carrying handle. When packed up, the combined power amp/mixer forms the center section, while the two wedge-shaped speakers clip onto either side by means of sturdy locking clips. This cunning design means the control panels and speaker grilles are enclose and protected when the Passport is in transit -good news for those of us accustomed to throwing everything in the back of the van at the end of a gig.
The smaller of the two systems, the Passport PD-150, pushes out a respectable 75-watts per side and offers three individual mono inputs, each switchable for mic/line inputs, with balanced XLR and phone jacks. Each channel has its own volume, pan and single tone controls, but channel one also benefits from Vocal Input Priority (VIP). This is essentially a ducking device that reduces the volume of the other channels when the mixer detects a signal on channel one. For example, if you have a vocal mic on channel one and background music on channels two and three, the music volume will be lowered when you speak into the mic, allowing your commentary to be heard and handy for the deejays (and, we imagine, egotistical vocalists).
In addition to the three channels, the PD-150's mixer offers a fourth channel whose stereo phone jacks and RCA inputs allow it to accept a wide range of audio inputs -from a CD player to a keyboard to a tape deck. (An extra pair of RCA sockets is also included on channel three.) Channel four is also switchable between mono and stereo inputs and features two tone controls, rather than one.
Rounding up its numerous features, the PD-150's mixer includes onboard digital reverb, send/return jacks on the front panel for hooking up external effects and a reverb/aux effect level control. The mixer's master output section includes left and right-channel levels, master reverb and master eq. All in all, the PD-150 mixer gives you a good amount of control over your sound in a well-configured layout.
The PD-150's two speaker cabinets each employ two high-efficiency 6.5-inch speakers in a portal enclosure, and the connection cables for these can be stored in the nifty flip-lid enclosure in the rear of the central section. This handy bin also holds a dynamic cardioid Fender microphone and XLR cable, both of which are included in the package.
Advertisement—————————————
—————————————————————
The larger Passport PD-250 carries a beefier 250-watts of stereo power within a slightly bigger pod, and packs in a few extra features. The unit's mixer offers total of four mic/line inputs and additional stereo channels with VIP and multi-format inputs, and the speaker enclosures hold four 6.5-inch speakers. In addition, the master output control can be reconfigured for stage monitor application by means of a switch that runs the amp in mono, allowing a monitor mix to be sent via the send/return jacks on the left and right side speaker channels. The PD-250 also includes two Fender P-51 dynamic mics and XLR leads tucked into the rear compartment, and both Passports offer a stereo tape output for performance recording, dual-voltage operation and a reverb footswitch jack.
The Passports were tested by feeding a Dean DA-PSE acoustic with a Shadow P-7 piezo/preamp system, a Gibson Les Paul Studio with a SansAmp GT-2 preamp pedal, and assortment of microphones and a CD player. Both units will deliver crisp, transparent sound with impressive bass response that belies the small speakers. The single tone controls, despite their obvious limitations, allowed usable sound, while the digital reverb and VIP were smooth and effective. Even heaps of outboard gear hooked up to them, Passports made it easy to get powerful tone and a balanced mix.
The End line
They're affordable and easy to tote, and they provide everything needed for a working PA in a package that's about the size and weight of an average combo. The Passports multi-format inputs can accommodate acoustic groups, soloists, rappers, DAT-backed bar bands, deejays, or just about anyone. If you have a venues to get to, you could find it a lot easier with a Passport.
Check out our new web site: Xtreme Music News