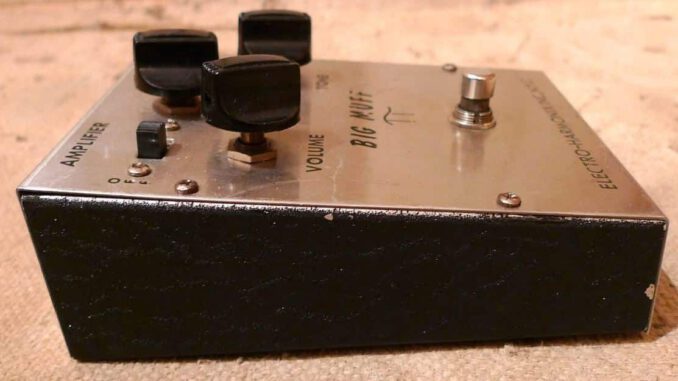 Electro-Harmonix trio of new effects hands-on review — There seems to be a never-ending stream of new stompbox effects emanating from the circuit benders at Electro-Harmonix. Twice a year the company's NAMM trade show booth trots out a fresh batch of signal-mangling machines calculated to excite electric guitarists, bassists, or anyone else who lives to alter audio signals in interesting and exotic ways. 2010 was no exception, with EHX proffering a bevy of new electronics that elicited headshaking and cries of, "They've done it again!"
Three objects to desire in this batch were the Germanium 4 Big Muff Pi, Freeze Sound Retainer, and the 44 Magnum Power Amp, each housed in a rugged, lightweight metal chassis. The Germanium 4 Big Muff Pi is a combination overdrive and distortion pedal; the Freeze captures audio input and lets you play over it; while the Magnum is more powerful 44-watt version of the tiny Electro-Harmonix 22 Caliber amplifier.
Bigger Muff
Though the Germanium 4 Big Muff Pi sports a similar sobriquet to the classic Big Muff Pi, it is an entirely different animal. The original Big Muff sounds has been heard in the soaring solos of Dave Gilmour and Robert Fripp, as well as the garage grunge of Nirvana and The White Stripes. That unit's four silicon transistors create a super-saturated smooth distortion beloved by bassists as well as guitarists.
The Germanium 4 Big Muff Pi's sound delivers instead from four NKT 275 germanium transistors, divided between two separate channels. The left side of the pedal is an overdrive, while the right side provides distortion/fuzz. The overdrive section of the Germanium Muff sports four knobs that control gain, volume, bias, and tone. The distortion side offers controls for gain, volume, bias, and tone. The distortion side offers controls for gain, volume, volts, and bias. The pedal comes 9-volt battery equipped or will run on an optional 9.6DC-200 power supply.
I plugged my 1965 Stratocaster into this version of the Big Muff and tried it out through an Orange Tiny Terror head, the EHX 44 Magnum amp, and both clean and lead channels of an Egnater Rebel 30 head. All of the heads went into the same custom 1×12" cabinet, housing an Eminence Texas Heat speaker.
Germanium transistors produce the distinctive tone associated with British guitarists in the '60s.
I found that the overdrive section of the pedal was reminiscent of classic germanium treble booster that fueled the early tone of rock guitar's holy trinity: Page, Beck, and Clapton. Treble boosters were used to push vintage British Marshall, Orange, and Vox amps into distortion while coloring them with the inimitable, biting germanium sound. The left side of this Big Muff brilliantly re-created that sound when played through the Tiny Terror, and to a lesser extent, the lead channel of the Egnater. Fiddling with the Bias and Tone controls produced a wide range of cool sonic coloration through all the amps.
The Distortion channel conjured up a gloriously Hendrix-like nastiness. Don't expect the infinite sustain of the original Big Muff (though with the Volts and Gain full on it comes close); this baby is more like the germanium-based Fuzz Face: edgy, yet lush. This side of the pedal sounded pretty darn good through any amp or channel, but it too excelled through the Orange.
Hold it there
EHX's new Freeze pedal stems from technology developed for their Harmonic Octave Generator (HOG) pedal. One of the many effects on the HOG is that you can use an expression pedal to sample and hold any played note or chord, over which you can then solo. The Freeze isolates this one effect and offers it in a Nano-sized pedal, where you hold the audio by stepping on a footswitch.
A three-position mini-toggle lets you choose whether you want the held audio to stop immediately or fade out slowly after you lift your foot from the footswitch (Fast or Slow); or keep playing after you remove your foot until you step on the switch again (Latch). A single knob sets the relative level of the held audio so that you can make it quieter than your soloing. Through an initialization process you can also set the fade speed to 400ms, 1 sec, or 3.2 sec, with the mini-toggle and the level control.
It took me a minute or two to acclimate my foot-stomping technique to the Fast and Slow settings, making sure that I played the chord first, then stepped on the switch to insure maximum tone and volume. Once I got it, the myriad possibilities became apparent. The Freeze provided everything from chordal backup for dramatic, rubato intro solos to high, organ-style pedal tones. This is one of those pedals I didn't know I needed until it arrived on the scene and now will have to have.
Feeling licky, punk?
The Electro-Harmonix 22 Caliber amp stunned the music world by packing 22 watts of warm amplifier power into a housing that normally held one of their Nano pedals—roughly the size of an MXR Dynacomp. With the 44 Magnum they have upped the ante to 44 watts without any increase in size. Like its little brother, the Magnum restricts its controls to a bright switch and a volume knob. It too works with 8- or 16-ohm cabinets.
It is not so much that EHX packed this much power into this diminutive package, it's that they somehow managed to make it sound so darn good. The amp's attack evidences tube-like sag that makes playing through it feel completely natural and expressive. The voicing is free of boom in the bass or screech in the top. You can sound musical plugging straight in—and traditional jazzers will love to—but once I added my pedalboard with its compressor, overdrive, delay, and reverb, I was ready to match this baby against any amp in my collection for any musical style.
Conclusion
One more time, EHX has come up with aids to better music making. Whether you are looking for that '60s London vibe, chordal pads for your solo excursions, or an extra amplifier that will break neither your back nor your pocketbook, Mike Matthews' crew has something for you.
Source: Musician's Friend
EHX Germanium Muff, Freeze, Magnum Review