The innovation of the bucket brigade delay circuit in 1969 made compact, stageworthy analog delay pedals a reality and allowed guitarists to retire their bulky and unreliable magnetic tape echo units. Although bucket brigades were eventually replaced by digital signal processors, suffice to say that–like skinny ties and Donnie and Marie Osmond–the analog delay has made a comeback. Nearly every music manufacturer is currently releasing its own take on the analog delay, and for good reason: most guitar players cherish the soft, lo-fi sound quality produced from these units.
Fortunately, MXR, who has been making some of the most popular and innovative stompboxes, has jumped on the bandwagon. The company's Carbon Copy Analog Delay pedal is the brainchild of MXR senior engineer Bob Cedro, and its design is noteworthy for the company: it's MXR's first delay pedal in nearly 20 years. What's more, it offers 600ms of analog delay time in a compact unit the size of MXR's Phase 90 pedal.
MXR CARBON COPY FEATURES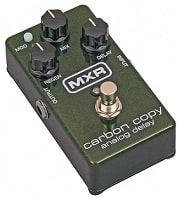 Ironically, given its name, the MXR Carbon Copy is not an exact copy, or even an update, of MXR's vintage AC-powered stomp box from the Seventies. For starters, the unit can be powered by a single nine-volt battery or AC adapter and features true-bypass switching, two bright-blue LEDs that indicate when the delay or mod effect is engaged, and a glitzy green sparkle paint job. There are the standard controls for Regen (number of repeats), Mix (wet-to-dry ratio) and Delay (delay time). The twist is the tiny mod on/off switch, which adds a subtle vibrato to the delay signal for some understated dimension. The mod effect is preset from the factory, but its width and speed can be adjusted via internal controls, which are accessible by unscrewing the back of the unit.
MXR CARBON COPY PERFORMANCE
The CARBON COPY is simple to use: plug in, tweak the knobs and you're rewarded with a glorious, organic delay tone. No doubt, the Carbon Copy summons a darker quality in its delay repeats, but hey, that's why we like analog delays: they tame the brightness from most amps. Triggering the Mod switch will also add a lush background to your overall guitar sound without overwhelming it. Granted, 600ms is not a lot of delay by modern standards, but it's more than most analog delays offer. If anything, the Carbon Copy excels at short bursts of delay, along with washed out and slap back sounds. If you need more delay than that, you're just showing off.
MXR CARBON COPY FINAL THOUGHTS
If you've never experimented with an analog delay before, the Carbon Copy would be a worthy place to start exploring. I've heard many analog delays, and this one performs as well as units twice its price. Besides, once you've tried it, you'll want more than one.
MXR Carbon Copy Analog Delay Pedal Review
Thanks to GuitarWorld for the review