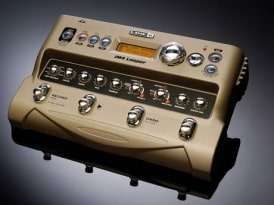 Combining exhilarating jam tracks with sound-on-sound looping and a full arsenal of legendary Line 6 tones, JM4 Looper sparks inspiration in ways other looping pedals can only dream.
JM4 Looper features over 100 Endless Jam tracks and drum grooves in more than 10 styles performed by top LA and Nashville session players. These tracks aren't rigid and robotic; these are actual recordings laid down by A-list drummers, bass players and guitarists. The real-world chemistry from these dynamic rhythm sections is here for you to explore your creativity in writing songs, trying out solo ideas or just honing your chops between gigs.
With up to 24 minutes of recording time, and storage for up to 100 recorded jams, JM4 Looper lets you capture all your riffs and musical ideas. A 2-GB SD card in the SD card slot provides additional jam storage and .WAV file transfer to your computer or recording software. Plus, use the SD card to import your own songs into JM4 Looper and transpose, time-stretch or loop over any music you want.
The looper has dedicated footswitches for Record/Overdub, Play/Stop, Half Speed and Undo for super-easy practicing, songwriting and creation of an entire backing band on the fly. Layer guitar tracks, bass tracks, keyboards—even vocals with the balanced XLR microphone input.
Complete with a comprehensive collection of brilliant modern and historic guitar tones, JM4 Looper gives you access to 200+ artist-created presets, 150+ song-based presets, 12 Line 6 amp models and a stunning array of effects for guitar and vocals. There's even room for 36 presets of your own creation.
Line 6 JM4 Looper