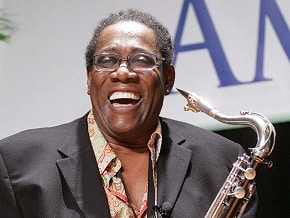 June 18th, 2011. A somber day for the world. For on that day, we lost a true musical hero; a veteran of blue collar, down and dirty rock n' roll… and his name was Clarence Clemons.
It always surprises me when I mention his name, and so few people know who he is. He deserved to be a household name, and maybe now he is.
In case you aren't aware of his contributions to the musical community, he was the saxophone player for The E Street Band, the popular backing group for Bruce Springsteen.
Born and raised in Virginia, Clemons was raised on southern gospel and hard work.
"My father owned a fish market, and I helped him in the shop. We lived 15 miles from school, so I'd get up in the morning, go to school, and work at the market or deliver fish after school. It was late, and I was tired by the time I got home at night. This went on every day. I also had a lot of responsibilities for the family because my mother was going to school. She graduated from college at the same time I finished high school. I tell you, I didn't have much time for childhood innocence."
At the age of nine, Clarence was given an alto saxophone by his father.
"I'd never even seen a saxophone before, and didn't really know why [my father] gave it to me"
At the time, no one knew how well an investment they had made, because Clemons had no intentions of taking his talent to a larger stage. While attending Maryland State College [on music and football scholarships], he was offered a trial by the Cleveland Browns, but was sidelined by a serious car accident the day before.
Clemons later moved to New Jersey, while playing in an assortment of club bands, playing everything from blues, to rock, to R&B.
When he first Springsteen in 1971, they knew they had something special. Clemons recounts the story as being "magical"…
"One night we were playing in Asbury Park. I'd heard The Bruce Springsteen Band was nearby at a club called The Student Prince and on a break between sets I walked over there. On-stage, Bruce used to tell different versions of this story but I'm a Baptist, remember, so this is the truth. A rainy, windy night it was, and when I opened the door the whole thing flew off its hinges and blew away down the street. The band were on-stage, but staring at me framed in the doorway. And maybe that did make Bruce a little nervous because I just said, "I want to play with your band," and he said, "Sure, you do anything you want." The first song we did was an early version of "Spirit in the Night". Bruce and I looked at each other and didn't say anything, we just knew. We knew we were the missing links in each other's lives. He was what I'd been searching for. In one way he was just a scrawny little kid. But he was a visionary. He wanted to follow his dream. So from then on I was part of history."
Springsteen and The Big Man wouldn't officially be in a group together until Bruce had begun the recording of his debut album, Greetings from Asbury Park, N.J. In between recording sessions for the album, he would jam with Clemons and his band, The Joyful Noyze. When Springsteen wanted a saxophone on a handful of his songs, he called Clemons.
When The E Street band was set to tour in support of the Greetings… album, the band was formed in its first state with Springsteen, Clemons, Danny Federici, Garry Tallent, and Vini Lopez.
Although this line-up didn't last in its original form, it was this initial roster that cemented Clemons' role as a right hand man, not just a hired gun. From this point on, the two would work closely together until his death.
Playing the saxophone and reaching a high level of fame is a difficult task, but Clemons accomplished this by his catchy and hooky solos that can be found at nearly every turn in his music.
He is perhaps known best by his solos in "Born to Run", "I'm Goin' Down", and "Thunder Road".
Unbeknownst to many, he also had released many solo albums of his own personal music, and collaborated with many other musicians, most notably Jackson Browne, on the song "You're a Friend of Mine."
He continued to write, record, and tour with The E Street Band, and collaborate with other artists until his death in 2011, when he suffered a stroke, just one day after shooting a music video with Lady Gaga.
Clarence has definitely had a profound effect on my life, and my musical tastes, and I believe that despite his shadowed presence on the world stage, he has affected many others. Gear Vault and myself would love to hear your experiences with Clemons' music, and how his playing affected you. Share below, we are all eager to hear your thoughts!
Bruce Springsteen – Clarence Clemons & The E Street Band