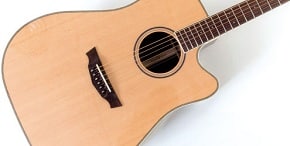 It seems as if market is flooded with hundreds of similar-looking dreadnought acoustic guitars, all with seemingly identical specs. You know the drill: solid spruce top, solid Indian rosewood back and sides, mahogany neck, scalloped X-bracing and, well, you know the rest.
Ultimately the ideal choice comes down to your own personal preferences for tone and playability, with perhaps styling being the tiebreaker. This last category is where Parkwood has developed a distinct advantage, offering guitars with understated, elegant appearance that stands out from the crowd. Parkwood's 5 Series guitars boast upscale accents, like herringbone top purfling, wood tuner buttons and binding surrounding the top, back, fingerboard and headstock, yet these models sell for similar prices to bare-bones, stripped-down entry-level guitars offered by big name companies.
The PW-510 is Parkwood's 5 Series dreadnought model, and it offers terrific value to players who want an acoustic guitar that sounds great, plays well and doesn't look like some high school student's wood shop project. If you have upscale taste but can afford to spend only a little more than what you got from the government's economic stimulus program, the PW-51O is worth a closer look.
FEATURES
Yes, the PW-510 is another one of those dreadnoughts with a solid Sitka spruce top, solid Indian rosewood back and sides, one-piece mahogany neck and rosewood fingerboard and bridge. However, there are many features here that give the PW-510 a touch of unique personality as well as upscale appeal. These include Grover tuners with ebonized wood buttons, herringbone top purfling, a black-and-white center strip on the back, a rosette with abalone inlays and an elegant black peghead overlay with an understated abalone diamond inlay.
The PW-510's neck features 20 frets, a comfortable U-shaped profile and a smooth matte finish that offers a nice balance between resistance (for anchoring your hand) and slickness (for moving up and down the neck with ease). The fretwork on my example could have used a little better attention to detail, as several of the frets felt sharp to the touch along the edge of the fretboard. However, this was the only noticeable workmanship flaw, and the rest of the guitar's craftsmanship appeared almost inhumanly flawless, from the lightly applied and brilliantly polished high-gloss finish to the way that all of the bridge pins were aligned in a perfectly straight line.
The PW-510's two-way biflex adjustable truss rod makes it easy to precisely adjust the action surprisingly low without any fret buzzing, and the compensated saddle (made, like the nut, of genuine bone) provides excellent intonation, especially for the sometimes-problematic B string.
PERFORMANCE
From the moment you strike a chord to the time that the body resonance fades to silence, the PW-510 delivers all the tonal character that distinguishes a dreadnought. Unlike cheaper dreadnought models, which can be overly boomy and have thin sounding treble, the Parkwood PW-510 produces well-focused bass and crisp, ringing treble with surprising fullness. The midrange harmonics are not as lush or complex as what you might find on a top-of-the-line Martin or Taylor, but keep in mind that the PW-510 costs five to 10 times less.
The PW-510 played great right out of the box. The frets have that "just right" medium profile that's neither too thin and wimpy nor too thick and unwieldy, providing a fast feel that will please electric moonlighters and acoustic guitar purists alike. Whether strummed with a flatpick or stroked fingerstyle, the PW-510 produces assertive volume output like a good dreadnought should.
THE VERDICT
PARKWOOD ACOUSTIC GUITARS offer outstanding value for the dollar, especially for guitarists who don't want a stripped-down clone of a classic. The PW-510 offers timeless sound and playability, and its styling allows even players with limited budgets to enjoy a touch of class. Thanks to GuitarWorld for the report. Watch the video below.
Parkwood PW-510 Dreadnought Acoustic Guitar Demo
By GuitarWorld