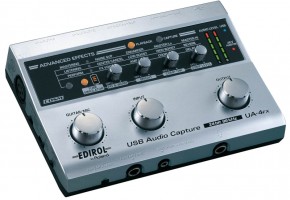 There is no doubt that personal computers have changed the way we record music. Gone are the days of big and bulky tape machines, expensive reels of two-inch tape, and all the maintenance that goes along with keeping a great-sounding analog rig up and running. Now, most of us are tracking into a computer of some kind or another, which keeps everything digital, cut-and-paste-able, and affordable. These days, however, even computer-based recording is changing, as the computers themselves get small, lighter, and more powerful. Many musicians are tracking on laptops running DAW software, which allows a huge amount of audio firepower to be as portable as a spiral notebook. All you need is a way to get your music into the computer, which is where devices like the new Cakewalk UA-4FX enter the picture.
The UA-4FX is an audio interface, which means it takes the signal from a guitar, bass, or microphone and allows that signal to become digital and be recorded by a computer. There are, of course, many interfaces of this type on the market at all price points, making it a very crowded playing field for these types of things. The Cakewalk has a list price of $239.00, which puts it in the more affordable part of said crowded field, which should appeal to our collective conservative nature.
The cool thing about the UA is that it is USB powered, which means no extra power supply to contend with. This makes the device ultra-mobile and able to go anywhere your laptop goes. This makes recording gigs, rehearsals, or any other non-studio event nice and easy. Outside of that, UA-4FX is designed to record and play back high-resolution audio of your music, up to 24-bit/96kHz. It has one XLR input with phantom power, which is what is needed for tracking vocals or instruments with a decent condenser microphone. It also has one ¼-inch Hi-Z input designed for optimum electric guitar and bass tones. This input also allows access to an amp simulator and effects like chorus, delay, and reverb, making it a one-stop guitar tone shop. There is also a tube mic preamp simulator pinned to the XLR input that makes vocals warm and fuzzy by the use of Roland's COSM Technology. In addition, there are MIDI in and out ports for sequencing, playback control, and MIDI recording.
Another great thing about the UA is that it is cross-platform compatible, which means it will work for both PC and Mac users, which makes it an interface for Everyman. It also delivers low-latency performance, meaning there is little to no lag time between when you hit a not while tracking and when you hear it, which is a problem that can plague computer-based recording systems. The UA also brings low-latency MIDI to the party, allowing seamless integration of your synths and audio.
Cakewalk also includes a software bundle called the Production Plus Pack (which is only for PC users, sorry to say) that consists of SONAR LE, Project5 LE, and Dimension LE, which makes this a one-box set-up for beginning Windows recordists. The CD-ROM also comes with all the drivers needed for Windows XP and Vista 32-bit versions and Mac OS X.
The UA delivers as promised when deployed, delivering excellent guitar sounds as well as the ability to track vocals and control MIDI all in the same unit. The onboard effects are great for tracking and monitoring and it has all the ins and outs needed to be plumbed into a variety of recording situations. In addition, it makes other audio tasks, like converting vinyl records to digital files, a breeze, as well. The UA-4FX is a worthy contender for anyone seeking an affordable and portable interface for laptop or desktop recording. If you are considering a unit like this, make sure it is on your short list.
Cakewalk (By Roland) UA-4FX Overview Video