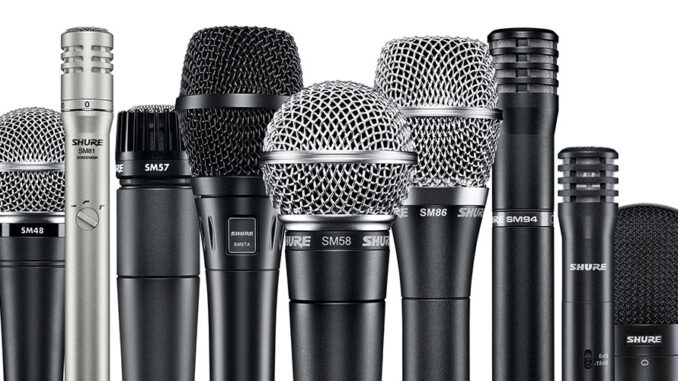 A microphone's purpose is to capture sound. Depending on weather you are playing a live show or doing some work in the studio, the microphone can be your best friend; or your worst enemy. Choosing the correct microphone for the job is crucial for the right sound. You wouldn't want to be on stage belting out your vocals into a kick drum mic, just as you wouldn't want to use an $800.00 studio vocal mic for a kick drum. Here we will be discussing the three more popular and commercially available types of microphones: Condenser, dynamic, and ribbon style microphones.
We start off with the condenser microphone, one of the most widely used types of microphones on the market. Condenser mics are very accurate and produce a great sound. The condenser mic works well in situations where high accuracy and clarity is needed. The condenser microphone is often used in recording acoustic instruments as well as vocals in the studio because it has the ability to capture a very wide spectrum of sound or frequency. In the past condenser microphones were quite high on the price scale but recently have begun to show a decline in respect to price.
The next microphone that we will focus on is sure to be the live performing artist's best friend. The dynamic microphone is rugged and versatile. Dynamic microphones can typically handle a lot more abuse than their condenser style cousins. Most live performers tend to use these types of microphones for vocals, especially vocals that rank high on the volume scale. Dynamic microphones have a knack for picking up heavy attack and high volume. The Shure SM57 and SM58 are stunning examples of dynamic style microphones. Although the dynamic microphone is a must have for live sound, it does not hold up as well in a studio setting as it has a much narrower frequency response.
The ribbon microphone is a type of microphone that many people have never even heard of. The ribbon mic works in much the same way as the dynamic mic. Ribbon mics gained popularity in throughout the 1950s and '60s, but their popularity has dropped considerably with the option to use condenser and dynamic microphones. The reason for this is that ribbon mics are expensive to fix and simply cannot handle very much wear and tear. The ribbon inside of the microphone can break easily and can cost around $100.00 to fix. You will most likely not encounter a ribbon microphone at a live show or in a studio for that matter.
In the end, the right microphone is one that you can work with.
Top Microphone Prices