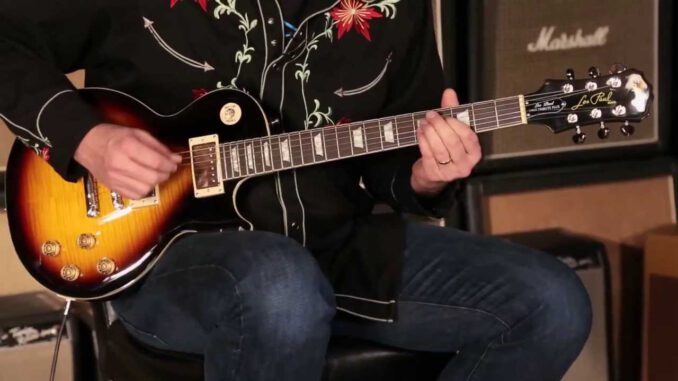 The recent passing of guitar legend Les Paul, who, in many ways, made the music world the way it is today, left a hole in the guitar community that will never be filled. Epiphone, being part of Gibson almost since the beginning of time, had a long relationship with Les and has brought out the Les Paul Tribute Guitar to honor Les' memory and the iconic guitar he helped to create.
The Tribute is a Les Paul Standard with traditional mahogany and maple construction, two humbuckers, four knobs, and all the other features that have made this type of guitar a part of our everyday life since the 1950's. The cool part of this tribute is the list of upgrades not normally found on an Epiphone instrument that make this guitar not only a great value but a fitting memorial to the man who started it all.
The Tribute features the original Les Paul deep-set neck joint, which is a hand-fitted glued-in connection that extends the solid mahogany neck well into the neck pickup cavity. This provides maximum sustain and transfer of energy and gives the Tribute the real Les Paul sound we all have come to love. Buyers also have a choice of neck profiles they can mull over. The guitar can be ordered with either a 1960's Slim Taper neck, which is a comfortable D-shaped carve used on many famous Kalamazoo-made instruments of the vintage era, or a more modern Asymmetrical carve which combines a rounded D-shape on the bass side with a flatter C-shape on the treble side, along with a compound radius fingerboard.
Electronics here are not the normal Epi pickups and wiring, but a pair of USA Gibson 57 Classic humbuckers, which recreate the famous P.A.F. pickups of the 50's. The pickups use four-conductor wiring and are set up to do series/parallel pickup switching, courtesy of two push/pull pots that allow for a wide variety of sounds to be generated from traditional to modern. Other upgrades include a Switchcraft U.S.-made pickup switch, Mallory tone caps, Grover tuners, and a premium hardshell case. All of this adds up to an instrument truly worth of the Les Paul name and one that will serve as a fitting memorial to Les. The best part is that, with a retail price of $1332.00, this is one tribute that everyone can afford to pay. Epiphone Introduces 14 New Guitars for 2010.
Price Les Paul Tribute Guitar
Advertisement—————————————
—————————————————————