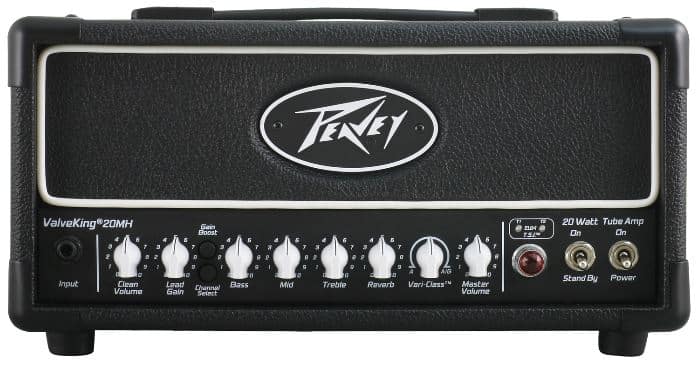 When it comes to rocking it out on stage or in the studio, you need a reliable amplifier that can provide that big tube tone. In this regard, Peavey's ValveKing II Micro-head seems to be on everyone's lips.
Boasting top-of-the-line features such: as a switchable 20W/5W/1W power output, three 12AX7 tubes, pair of EL84 power tubes, and a USB recording output. The Peavey Valve King II micro may be what you've been looking for.
In this Peavey ValveKing II review, we examine whether this unit is worth your money. Read more
Fender first revealed the Road Worn Series guitars and basses at the Winter NAMM 2009 show four years ago, and seemed to have been a hit. These axes are for players who desire that banged up, beaten, used and abused vintage relic'd appearance but don't have the spare $2,000 – $3,000 for a Fender Custom Shop Time Machine relic, let alone the cash to purchase an authentic vintage Fender. Read more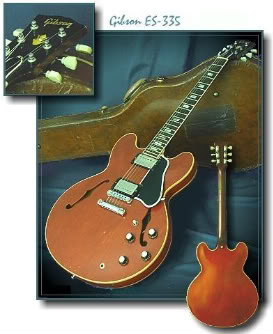 In 1958, Gibson brought the ES-335 into the world in response to Jazz Players whose hollow-bodied git-boxes howled with feedback. Looking very much like a traditional thinline hollow body, the 335 had a center block of maple that cut feedback while it spawned a far-flung family of subtle, genetic variation, such as Gibson's Vintage ES-345, ES-347, ES-350 and ES-355 models, Epiphone's Sheraton, Casino and Riviera guitars and a slew of close relatives and out-and-out clones by virtually every guitar maker in existence. Read more


Here's your chance to win a beautiful Gibson ES 335 Semi-Hollow body Joe Bonamassa Signature Model guitar! This guitar values at around $3,300 big ones.
Contest ends April 4th
Don't be stingy! "GET ACCESS" by Tweeting, Like us, or +1 us to share this giveaway with your friends. After you share and get access, you will see the "ENTER TO WIN" button. After you click "ENTER TO WIN" just enter your email
[sociallocker id="16289″]
[/sociallocker]
Video: Gibson ES-335 Joe Bonamassa
See this guitar in action!


Jackson guitars have always offered aggressive looks and sound coupled with high-quality workmanship. Their KE Pro series brings all the upscale Jackson elements to a very attractive price point. Based on the Kelly, the KE3 has a sharply chiseled Explorer-like body shape, with Jackson's signature pointy headstock. The nearly -$1,400 difference between Marty Friedman's favorite axe and the KE3 is really not so huge: the tremolo is a JT580LP Floyd Rose License, not original; the pickups are Seymour Duncan's Jazz and JB and the neck is bolted on, all of which add up to a great deal.
The Jackson KE3 has an alder body and a maple neck of wide, oval proportions. The headstock is attached with a scarf joint behind the fist two frets, adding strength at the nut—an important detail when dealing with the extra routing necessary to accommodate a locking nut. The rosewood fretboard is fitted with 24 wide, near-jumbo frets, which are superbly crowned and polished. Jackson's trademark "shark fin" inlays, done in a rich pearloid plastic, are inlaid to the neck with admirable neatness. Our review model arrived dressed in Black (Transparent Red, Blue and Black are also available as well as Cobalt Blue, Swirl and Skulls), all black hardware, including black tuners, and black locking nut and tremolo and a single black volume knob.
Plugged in, the KE3 really came to life. The Seymour Duncan Jazz SH2N and JB TB4 pickups, in neck and bridge position respectively, are bold and brawny, high-output humbuckers with a hard-assed bite that can be felt even through clean amp settings. But don't peg them as one-trick ponies: each pickup alone offers some enticing colors, particularly with the volume rolled back a couple of notches, and the combinations of the two makes for a fine clean rhythm or lead tone.
But let's face it, the axe was made to cut eardrums, and so most of my playing time was spent with the KE3 pumped through a Marshall JCM800 and a ProCo Rat distortion pedal. The resulting sound was capable of rearranging furniture and small pets in the house across the street. The bottom end on this guitar is something the U.N. should sanction. Muted rhythms take on a tribal percussiveness, and leads sound like they're doubled with tap-dancing gorillas. The treble had to be rolled back a bit from my usual "everything on seven" setting, however, since a hint of microphonic squeal could be coaxed from the pickups with a tap of the pick. Still, the KE3 delivers some awesome muscularity along with radical good looks and solid craftsmanship.
For those who wish to single eyebrows and swill Jaegermeister on a Budweiser budget, Jackson's KE3 Pro is your weapon of choice.
Jackson KE3 Guitar In Action!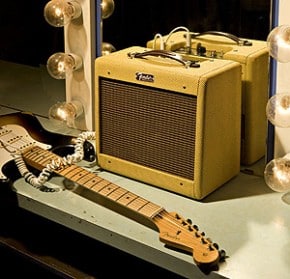 The introduction of Fender amplifiers almost coincided with the company's electric guitars in the mid 1940s. The earliest venture into the amp market by Fender was marked by the production of what they named the "Tweed Amps" which had an output ranging from three to seventy five watts. However, these amplifiers had an inbuilt Read more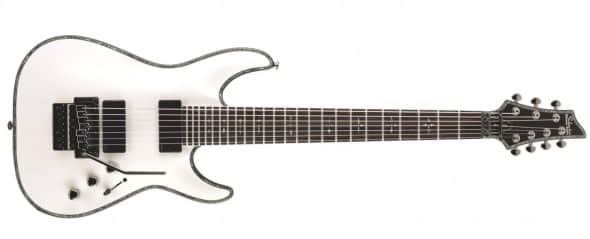 Baggy pants? Check. Pimpin' Adidas? Check. Natty dreads? Check. Turntable-thrashin' DJ? Check. Seven String? Hello? Seven String?
Even if you've got all of the other required accouterments, you'll be hard-pressed to make it big with that psychotically low, funky, hard-music grind that's all the rage these days if you're not packing a seven string. In the past, chugging on the low E string used to be enough to make you a contender. But now, with bands like Limp Bizkit mining sinister new veins of metal and settings a new standard for heaviness, you're likely to be written off as a lightweight if you can't summon up that deep, spongy rumble. Until recently Ibanez has been the only mass manufacturer of seven-string solidbodies, but the Schecter Diamond and Hellraiser Series offers a new, affordable contender for players who want to hit below the belt. Read more

Carvin is thrilled to introduce their latest model, the ST300. This new model offers the features and choices of Carvin's contemporary Custom Shop guitars with the timeless body shape that they offered back in the early 1990s. The body is more circular than the legendary DC series and has a waist and forearm cutaway for playing comfort, as found on the Contour 66. The Carvin ST300 model reflects Read more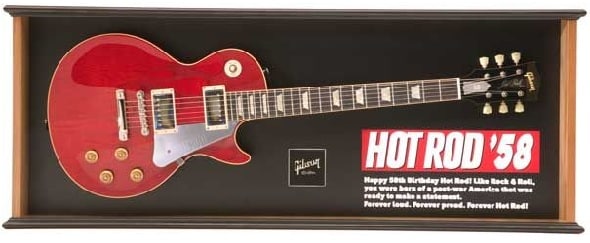 Hey GearVault readers, awhile back I randomly signed up to a guitar giveaway that I found on the net. I figured it was a waste of time because I NEVER win anything (hence, why I don't play the lottery =). A month or so later I received an email saying I had won their contest and they shipped me a Gibson Les Paul Studio equipped with P90s and a Fender Deluxe combo amplifier. I was delighted! Though I already have my own gear, I just gave this stuff to my nephew so he could learn to play guitar. After feeling lucky, I downloaded an auto-fill extension to my browser (in my case Firefox) and signed up to a bunch other gear giveaways, it literally took 5 seconds and the effort involved one click of the mouse. About a month later I received a Maxon OD808 pedal in the mail.
So this gave me an idea! I decided to report every guitar/gear giveaway to you, GV readers, so you can get in on action! Of course since I have my handy-dandy auto-fill extension connected to both my FireFox and Chrome browsers, one click the mouse BAM! I am entered in these giveaways too… However if I win, I don't need the guitars and gear as I have my own setup, I would rather give GearVault readers any merchandise I win! So when I win gear I will pass the equipment on to a dedicated GV reader. If you are not on GV's mailing list, then obviously your email won't be there to get selected for a chance to win, so you are going to want to sign up to the Feedburner mailing list below and activate it to prove your email is valid. If you fail to validate your email then it won't show in our system and you will miss out on the chance to win. Another really cool thing is when you are on our Feedburner mailing list, you will get notifications of cool giveaways and hot news, but don't worry, like you, I hate spam mail… so you don't have to worry about that!
Enter to Win Guitar Giveaways 4 Life!
As well as receive other Guitar & Gear News!
Disclaimer:
By entering above you agree to receive mail from GearVault. You will not only be registered in our system to win free shit, but you will also get updates about guitars, guitar songs, interviews, news and other cool state of the music gear.
Only valid users are eligible to win.


Both here at GearVault and elsewhere in the guitar playing community, the name Malden has been developing a great deal of hype in the last several years. The company first gained widespread exposure through their December 2010 closeout deal. During this deal, Malden practically gave away their entire preexisting stock, which had been created somewhere in Asia. They then reinvented themselves in New Mexico as a high end, American boutique brand with a state of the art custom shop. It would be during their first tender months pumping out guitars through their custom shop that I initially came into contact with the company.
Soon (very soon to be honest) after I had seen a local listing for a perfect condition Malden Mozak, I became enamored. Originally in the market for a new Tele or some sort of hollow-body, the sleek Jazzmaster style design of the Mozak unexpectedly piqued my interests, and nearly two years later I do not regret my decision at all. I'm giving this history to explain the bias I have in this review; however, I will try and make it as fair as possible. This review will be conducted using a Vox Valvetronix AD60, though the focus of this review will be much more on the aesthetic and natural sound of the guitar. Now that that's out of the way, let's dive into and explore this stellar guitar. Read more