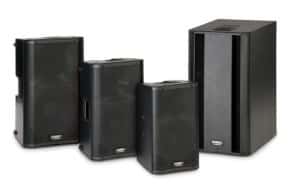 Could this be the speaker everyone has been waiting for?
QSC is marketing the new K Series as "The New Standard." After spending some time with these speaker and putting them through their paces, I might have to agree that the bar has just been set higher than ever before in the category of portable active loudspeakers.
Powerful
To begin with, the series consists of three 2-way models (K8, K10, K12) and a dual 12" subwoofer (KSub). In typical loudspeaker design, manufacturers throw the most power and capability at their larger models and scale-down the smaller speakers to a much lesser degree of performance. With K Series, QSC took a radical new approach, outfitting each of the four models with an all-new, 1000 watt Class D power module (500 W to the LF, 500 W to the HF), so even the KB (8" 2-way) gets the same amount of power as the K10 (10"), K12 (12") and KSub. My first impression of this design was that an 8" speaker was never going to handle that much power. But after plugging it in and turning it on I ran a number of musical sources through it and the other 2-way models — everything from club music, to heavy metal, to classical, to 70's disco and no matter how high I turned them up, there was simply no hint of the high frequencies distorting or buckling under the load. But what was most amazing to me was the amount of low-frequency content I could pull out of such small speakers.
Advanced DSP
QSC implemented a number of DSP processes first introduced in their line-array products, as well as some all-new algorithms that make the K Series perform in ways well beyond what you would expect from a package this small. For starters, by flipping the DEEP (Digital Extension and Excursion Processing) switch, you engage a combination of sound contour and active speaker excursion management that allows the box to reproduce low frequencies that you would swear were coming from a much bigger speaker. There is also a switch labeled VOCAL BOOST which when activated, lifts frequencies in the critical vocal range above the rest of the mix — perfect for singers wanting to get above the band or as stand-alone public address system.
Perfect Sound – Everywhere
The primary difference between the three 2-way models is there dispersion pattern. All three models have a conical coverage pattern but each is designed for maximum coverage over a specific area. The K8 has the widest coverage at 105-degrees – perfect for venues where you want to project your sound laterally. The K12 at 75-degrees is for venues where you want to throw your sound deeper into the room. The K10 90-degree dispersion pattern split's the difference. QSC also applied a new design principle that they call Directivity-Matched Transition (DMT) so that whenever you are in the coverage area, you're receiving all of the frequency content. To test this, I set up each box on a long wall in a local venue, played music through them and "walked the pattern." Sure enough, there was no telltale loss of high frequency content as I approached the edges of the patterns. I can tell you from experience with other 12" and 15" speakers I've used in the past this is not the case. The K Series top boxes can also be down-tilted 7.5" should you desire.
Flexibility
The back panel of the K Series has three sets of inputs – input 1 and 2 feature a combo jack that accepts either XLR or ¼" balanced inputs. Channel 1 can be switched between MIC or LINE sensitivity. There is a third input featuring a set of RCA phono jacks. All three inputs can be used simultaneously and mixed to a single line level input. I had no problem getting the mix I wanted with a microphone, keyboard and MP3 player connected all at once. There is also a set of direct outs that parallel the channel 1 and 2 inputs. Other nice touches include the LED switch, which sets the front-mounted blue LED to display power-on status, amplifier limiter tracking or turn it off. The amplifier enters STANDBY mode after 5 minutes of inactivity – a great power-saving feature. The unit comes on again instantly on sensing an input signal. The K10 and K12 can be used as floor monitors and all three of the 2-way models have hang-points for suspension. The KSub, although wood (the 2-way are made from lightweight, rugged ABS) outputs a ton of LF in a tidy package that is ergonomically designed with 2 handles and four casters. Because of its shape and size, I could easily lift it myself into the back of the SUV.
Conclusion
The K Series is everything it claims to be and more. I can honestly say that as of this writing, it's the class of the field and will be hard to beat in terms of design, performance, overall value and reliability (QSC is offering their free 6-year extended warranty with registration.) For more information, visit www.qscaudio.com