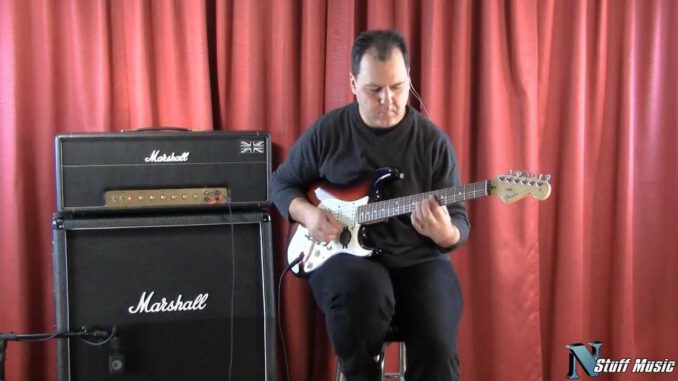 Most have been waiting for this for years. Others are still trying to pronounce his name. For those who have never heard of Yngwie Malmsteen, he's only one of best neo-classical gone hair metal guitar players of all time. Finally, he's getting a Signature Marshall Amplifier.
The Marshall YJM100 Signature Valve Amplifier is something like a dream for guitarists like me. It's a near clone of the 1959 Marshall Plexi that Malmsteen has made a staple of his arsenal. Though, this baby's got some features that really got me interested. First of all, it has reverb. Yeah, you may not think this is a huge deal, but having reverb on a head is pretty convenient. Next, it's got a half power switch so you can either operate the head at the full 100 watts or 50 watts.
This is great so you can keep your volume level where it needs to be so you don't sacrifice tone whether you're playing in the bedroom, or on the stage. But the coolest thing about this amp is the infinitely variable Attenuator control. This allows you to keep the power tubes cranked all while keeping your output level at a reasonable volume appropriate for the setting. This is something that custom amp companies began doing on many older amps like the JCM800 so that players could crank their master, but keep the volume at a practical level without losing their hearing. This feature is SO COOL! Why doesn't every tube amp come with an attenuator? Everyone take a hint from Marshall here.
Marshall Amplifiers also introduces something called Valve Failure Circuitry. What this does is activates a light designated to its respectable output tube so that when it's not working correctly, it's an easy diagnosis. This is where the self biasing circuitry allows you to easily pop out the problem tube, and throw in a new tube without having to do any bias work. Wow, talk about convenient! Talk about not needing guitar tech or a repair shop! This is really a guitar players' dream.
I really can't say enough good things about the YJM100. I can't wait to try one of these, and I'd really like to see what the price tag is on it. Marshall hasn't announced this yet, but when they do, they'll be sure to stack up preorders… and not just from Yngwie Malmsteen enthusiasts raring to rip some "Arpeggios From Hell" through it. With all its valve functionality and features, gigging axe wielders and working musicians are going to hop on this train. Who wouldn't?
Marshall YJM100 Prices