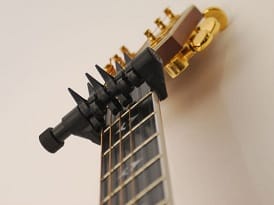 Are you a guitar player who's been looking for the ultimate string cleaning tool that not only cleans the top of your strings but the sides and bottom? What about a capo that allows you to choose what strings you'd like to capo? Tone Gear answers your prayers as of right now!
The String Cleaner, donned as the "Ultimate String Cleaning Tool," is just that. Almost like an acoustic humidifier that clips onto your strings, the tool will give your strings a complete 360-degree clean. This is awesome as most string cleaning methods involve just brushing the top of your strings or having to wrap cloth around your strings with some crazy lubricant. Sure, those things may work to a point, but this is just a snap, slide, and your strings are completely clean. Pretty neat.
The second product up for review here are the Wristies. These are pretty much forearm/wrist fingerless gloves that are supposed to keep your hands warm and alleviate any strain in your hands and arms. I like the idea of how it should help blood flow and keep your tendons warm and stretched. It'll also keep your hands warm if you're playing in the cold. Not a terrible concept.
The featured product here in my mind is the Spider Capo. This capo from Tone Gear will allow you to capo EACH string individually. Yes, it's a real thing, and it's pretty awesome. For those of you who don't understand, this is going to allow all you shredders to play in countless alternate tunings without having to detune your whole guitar. Playing in alternate tunings is extremely fun, but it can become a giant pain in the ass, especially if you're only working with one guitar and not multiple axes. This'll take that hassle away, and make it so much easier to play in tunings other than your standard E. It's a great concept and I can't believe I didn't think of it first!
I like what the minds at Tone Gear are up to. With creations like these, I'm eager to see what else they continue to churn out in the future. Conceptions like the Spider Capo are things that guitar players have eagerly been thinking about for years but never knew exactly what they wanted or how to ask. For more information on all of these and future Tone Gear products, visit www.tonegear.com.
Spider Capo in action