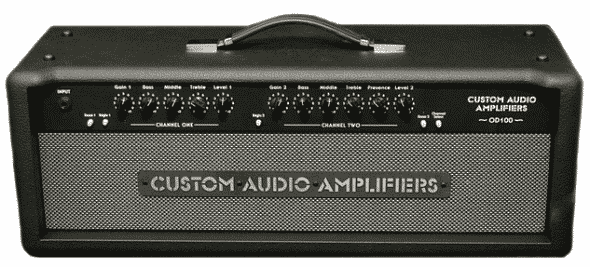 Custom Audio Electronics is the brand name of amp/guitar system guru Bob Bradshaw, whose high-end rigs have been seen on the world's biggest stages with major stars playing through them since he launched the company in 1980. One of CAE's flagship products is the OD-100+ head. The OD-100+ delivers to its users an unmatched level of versatility in a two-channel amp as well as a huge tone that wins over pretty much anyone who plays through one.
Channel one is designed to be the ultimate 60's Fender Blackface sound: warm, sweet, and defined with a punchy low end and lots of definition. Channel two packs the loudest and proudest hot-rodded British distortion and overdrive tones this side of the U.K. and also features a boost mode that acts like a third channel for soloing. The distortion is very open-sounding, never muddy, and cuts through a dense mix with ease, with a fast, transient attack that feels alive under the fingers.
The Standard+ now comes with Depth and Power Amp Presence controls on its back panel. Both of these work on the power amp section of the circuit, Depth being a low-end boost and Power Amp Presence working on the high-end response of both channels. These controls allow the amp to be adjusted for different rooms without changing its fundamental EQ settings on the front panel. All of this adds up to one of the most versatile and touch-sensitive amplifiers on the market today. This, plus the revered CAE tones that have been on countless hit records, make the OD-100+ head one of the best guitar amps in the business today.
Custom Audio Electronics OD-100 Guitar Amplifier Video