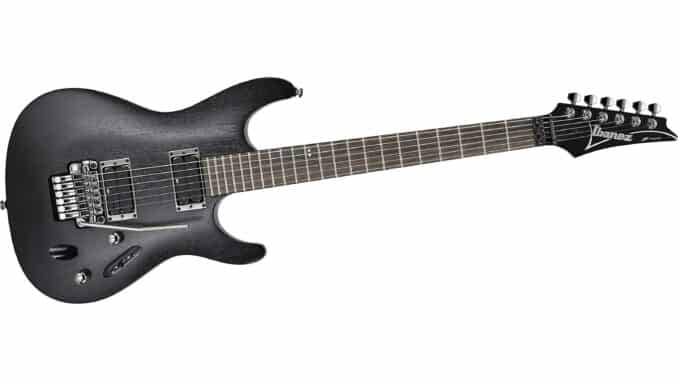 Ibanez Guitars introduces more new products every-year it seems, and the majority of them are becoming more and more affordable guitar models. This presents buyers with quite a challenge when trying to narrow down their choices, but as far as I'm concerned, the Ibanez S Series S320 is one of the best models Ibanez offers with an online price around $350 bones.
Ibanez S320 Features
The Ibanez S320 is yet another guitar that follows the Henry Ford Model T credo of "any color you want, as long as it's black." Like other S Series Ibanez models, the S320 design mixes the mahogany body and thin edges of an SG with the asymmetrical double cutaway body shape of a Strat. The pickups are a pair of high-output Ibanez Infinity humbuckers that are individually voiced for the neck and bridge positions. Controls consist of master volume and tone knobs and a five-position pickup selector that provides a nice blend of straight humbucker and split single-coil tones.
The three-piece maple Wizard II neck has a rather flat radius and features the thin profile that made Ibanez guitars a shredder's standard during the late Eighties and Nineties. The rosewood fingerboard is clad with 22 jumbo nickel frets and is completely blank, save for a pair of small offset dots at the 12th fret.
Ibanez S320 Performance
The coolest feature of this guitar is its ZR (zero resistance) locking tremolo, which has the smoothest action of any tremolo that I ever have played. This floating tremolo uses a ball-bearing design that returns to its center position quite quickly, allowing you to create unique whammy effects unlike anything you've heard before.
The Infinity pickups are especially sensitive, capturing even the subtlest harmonies with ease (ideal for those of you who create those ultra-high pitched squeals that drive dogs insane). The pickups sustain for days, allowing you to play entire melodies with the whammy picking the first note.
Verdict
The Ibanez S320 is a flat-out hot-rod shred machine with an incredible tremolo system that is like an instrument unto itself. The open-pore finish makes this a lively, expressive ax that delivers the dynamics you need for devastating rhythms or soaring solos. NOTE: The Ibanez S320 guitar is a discontinued item.
Review courtesy of MusiciansFriend and Guitar Center.
Ibanez Guitars