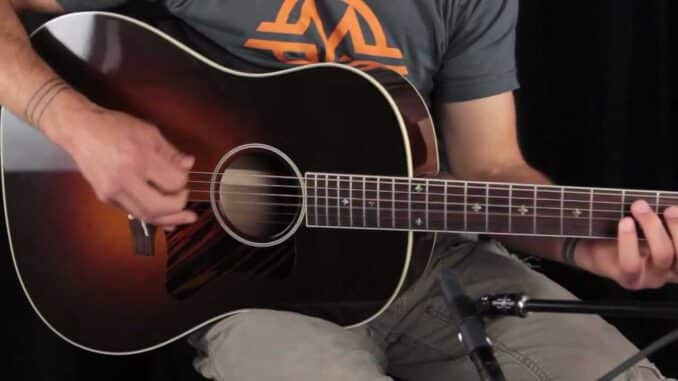 On January 12, 2011, the Jackson Browne Signature Gibson acoustic guitar was unveiled at the National Association of Music Merchants (NAMM) winter show in Anaheim, California. Hearkening back to Gibson's revered Roy Smeck models of the 1930's, Browne's baby took the better part of a decade to complete, as he went back and forth throughout the process with the Gibson Montana Acoustic Master Shop up in Bozeman, Montana.
As one would expect from pairing a thoughtful – if not demanding – artist like Browne with a meticulous instrument maker like Gibson, it is equal parts beautiful and booming – as was the case with the rare Smeck model after which it was patterned (of which Browne has several in his personal collection). The quality of the materials and workmanship produces a sound as clear and wide as the Montana skies beneath which it was born. With a red spruce top, sunburst finish and English walnut back and sides, this guitar emits the pristine concert sound that has defined Browne's music since his early days in the Nitty Gritty Dirt Band.
A fixture on the American music scene since 1966, Browne was inducted into the Rock and Roll Hall of Fame in 2004. His songs have always been defined by a fierce literacy tied to the sensibility of his folk-based arrangements and timeless hooks. Even if he is often overlooked in the discussions of top artists, Browne has left an indelible mark on the history of rock and roll. He co-wrote (with Glenn Frey) the Eagles hit, "Take it Easy". His songs have also appeared on the soundtracks of seminal films, including Martin Scorsese's Taxi Driver and Fast Times at Ridgemont High (which featured his top-rated single, "Somebody's Baby").
It was Jackson Browne who, behind the scenes, pushed David Geffen to produce the first two albums by Warren Zevon ("Werewolves of London"). He has also collaborated with Bruce Springsteen, Bonnie Raitt, Graham Nash, Linda Ronstadt, Joan Baez and others. His material has been covered by the likes of the Allman Brothers, the Eagles and The Byrds, and he has performed alongside the legendary Roy Orbison. While living in New York, Browne had both a professional and romantic relationship with the entertainer Nico (who was most commonly associated with artist Andy Warhol and Lou Reed's band, the Velvet Underground).
"Running on Empty" is easily Browne's most recognizable hit, with its eery-catchy slide guitar, but his career is still pushing full steam ahead as he just wrapped up his North American tour in April. With the release of Gibson's hand-crafted acoustic guitar bearing his name, his cap may not have room for many more feathers – and certainly none with the same degree of plumage.
The Jackson Browne Signature Gibson, created by master luthier Ren Ferguson, is based on the classical guitar platform, with 12 frets out of the body. The Model A comes with the factory-installed Trance Audio Amulet true-stereo acoustic guitar pickup, Browne's preferred method of translating the guitar's hearty voice – with extra body depth providing powerful projection and sustain – to the amplifier in a manner that mirrors its true sound. The Model 1 version comes without the pickup, but is designed to be retrofitted in case one has regrets about "cheaping out" on the Model 1 (with it's $5800 price tag, it can be had for about $2,000 less than Trance-equipped Model A).
We're not only talking about an instrument which has looks that compete with the beauty of the sounds it produces, it is also a guitar that meets with its namesake's ideological approval. A lifelong liberal Democrat whose politics are often infused into his music, Jackson Browne wanted Gibson to produce an environmentally-friendly guitar, and they did; the walnut for the back and sides comes from trees that are sustainably farmed in order to measure up to his principles as well as his standards.
To Browne's way of thinking, his signature guitar had to be historically modeled after those immaculate pre-war Gibsons, without what he called "compromises or shortcuts", and the company happily obliged. "It has been an extraordinary back and forth process with Gibson creating this guitar," he said. "As a performer, I've learned over the last 20 years what I like, and what works for my music."
He's selling himself short a bit – his impact on music is going on 50 years now, and his music is iconic in ways in which the work of other artists often fall short. The same can be said of the Jackson Browne Signature Gibson acoustic guitar.
Gibson Jackson Browne Model 1 Acoustic Guitar