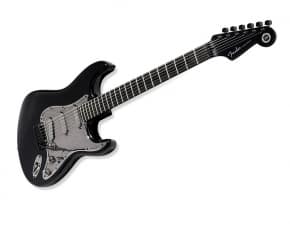 Harley-Davidson's 105th Anniversary – Fender Custom Shop has created three special edition Fender Stratocaster guitars commemorating the event. The first guitar (#1 of 3) was auctioned online and sold for $35,088.00 the proceeds was donated to the Muscular Dystrophy Association. The auction ended Sept. 4, 2008.
The custom black Stratocaster features black cherry pin striping and a combination of black chrome and black nickel hardware. Other features include the Harley-Davidson bar and shield logo engraved on the jack plate, head stock applique, serialized neck plate and a Harley-Davidson inlay on the neck in black polycarbonate. The guitar is also highlighted by a perforated alloy pick-guard and back plates assembled with the use of socket-head Allen screws commonly used by Harley-Davidson on their motorcycles.
The guitars were designed and built by revered 20-year Custom Shop veteran Master Builder Scott Buehl. Buehl created the design in collaboration with the Harley-Davidson Styling Department. Buehl also built the Harley-Davidson 90th Anniversary guitar which debuted in 1993 with a production run of 109 guitars.
Later this year, the second guitar (#2 of 3) will be donated by Fender to the new Harley-Davidson Museum in Milwaukee, Wis., while the third guitar (#3 of 3) will be exhibited at the Fender Museum in Corona, Calif.
For more information, please visit www.fender.com, www.h-d4mda.com and www.harley-davisdon.com/105th.