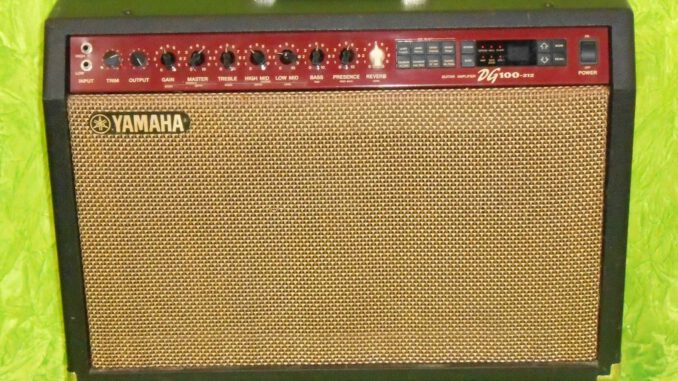 Another contender for the heavyweight silicon-superamp title is Yamaha's DG100-212, 100-watt combo based on the company's popular DG1000 guitar preamp. Unlike comparable amps, with their data screens and complex menus, the DG100 features controls that are refreshingly familiar and simple to operate. Yamaha's aim here is to offer classic tube tones in a digital modeling amp that uses knobs and buttons rather than parameters and data wheels, which tend to scare off technophobes.
The front panel kicks off with two master controls, one for overall output (kind of a master volume) and another for adjusting the trim of the input; the latter control features a pair of LEDs to signal when you're overloading the circuitry. This is followed by a familiar array of rotary controls for gain, master, EQ, presence and reverb level, and a group of push-buttons from which you choose one of eight amp models. The digital paraphernalia puts in an appearance by way of a simple key pad and LED display, which is used for storing tones.
Operation is virtually self-explanatory. After adjusting the trim and output, you punch a button to select an amp model. The DG100 lets you choose from lead, drive, crunch and clean, with two different voicings offer for each type of sound. Next, adjust the rotary controls, add a splash of reverb (spring, hall or plate) or tape echo—again, by simply pressing a button—and adjust the effect level. If you like what you hear, select one of the 128 patches locations using the key pad, press "store" and your tone has a home.
When it comes to time to visit one of your stored recipes, use the key pad to call up the patch number, and press "recall"—at which point the knobs will move to their new settings by themselves. Spooky, but totally impressive. Although it can take up to 10 seconds for the knobs to reach their preset values, the selected patch kicks in immediately.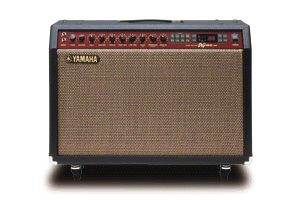 In addition to a pair of buxom Celestion Vintage 30 speakers, the internal organs of the amp are a solid-state, analog power amp and a digital preamp that provides the reverb, "tape echo" and speaker simulation. The heart of the amplification unit are a 20-bit analog-to-digital converter (A/D) and a 24-bit D/A, which provide the amp's clean and quiet sound quality.
Yamaha has concentrated on producing eight satisfying and believable sounds. All of the amp types have a solid and lively character. Furthermore, each of the amp types actually responds differently. Some have that tube-soaked sag, others punch like Tyson, and the extended EQ section allows you to bend these tones into any shape to suit your guitar, style or taste. A rear-panel effects loop with blend control lets you complement the amps onboard effects, and a balanced (XLR) line-out jack with speaker simulator is provided to send your tone direct to a mixing console. You can even pop off the two rear casters to angle the amp for monitoring purposes.
To get the most from this combo you'd want to purchase a MIDI foot controller and make use of the rear panel MIDI prts. This would enable you to move easily between patches, control the overall volume and manipulate the reverb and tape echo effects. The MIDI functions also allow you to store the patch information onto an external device, thereby making room for new programs and expanding your patch library.
Yamaha DG100-212 Digital Modeling Amplifier Video Review