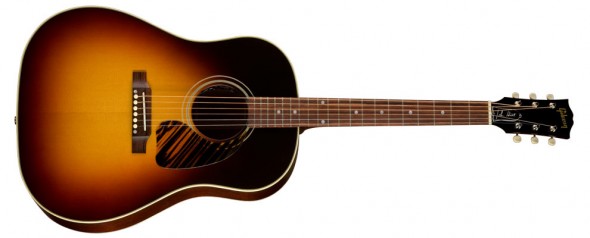 John Hiatt is one of the best-know players in the singer/songwriter game. From the 70's to today, Hiatt has always been a compelling and soul-stirring songwriter and has seen his songs covered by the likes of Bonnie Raitt, Bob Dylan, Emmylou Harris, Keith Urban, and many others. In honor of his long and distinguished track record, Gibson has announced the release of the new John Hiatt J-45 signature guitar.
The Hiatt is round-shouldered and features a Sitka Spruce top and Mahogany back and sides. It also has a one-piece Mahogany neck with a modified V-shape carve. It comes stock with a Fishman Eclipse Matrix Blend soundhole-mounted pickup system that makes for easy amplification, as not too many singer-songwriters stand in front of a guitar mic these days. All of this is wrapped up in a lovely sunburst nitrocellulose lacquer finish. MSRP on the John Hiatt J-45 is $4515.00.
It is easy to see why Gibson wanted to do a Hiatt guitar, as he has played a J-45 for most of his career and the Hiatt Model seems to be a cool, classy, and understated instrument. Unfortunately, what it also is is one more high-priced signature model that will probably hang on a wall somewhere and never really get played. These types of guitars seem to be a strong trend in the market lately, and they must be selling or companies like Gibson wouldn't keep making them. You can judge for yourself if an axe like this is worth the extra bread at your friendly neighborhood Gibson dealer. Hopefully, you will find one with as many songs in it as Hiatt found in his.
From Gibson.com:
John Hiatt J-45

From his first hit penned for Three Dog Night while working as a Nashville songsmith (1974's Billboard No16 "Sure As I'm Sitting Here") to his highly acclaimed new album, The Open Road, John Hiatt has long been celebrated as one of the most potent songwriters in the business, and as a solo artist in his own right, his voice is known for its unparalleled power.

While his songs have been recorded and performed by Bonnie Raitt, Bob Dylan, Eric Clapton & B.B. King, Rosanne Cash, Joan Baez, Emmylou Harris, Keith Urban, and several others, few experiences are quite as moving as sitting in a packed house while a lone Hiatt and his acoustic guitar belt out "Have a Little Faith in Me", "Perfectly Good Guitar", or "Crossing Muddy Waters". In celebration of this artist's achievements, Gibson presents the John Hiatt Model, a custom-appointed acoustic guitar from the luthiers of Bozeman, Montana.