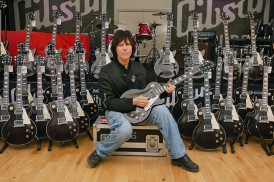 The L.A. Times recently published a list of the 50 greatest guitarists to ever play the instrument. If you have read music-related magazines, in print or online, for any amount of time, you have probably seen a few lists of this sort published and discussed. These types of lists are really a no-win situation, as music and guitar playing are subjective, not competitive, so it is really just one persons' opinion going against another.
There are always hard feeling about who was left out and who was included, too, for the exact same reason. That being said, the list in the L.A. Times, while far from perfect, does a better job than most at picking the most influential and proficient players of our favorite instrument. Read the list here.
Before you get all excited about the order, please notice it is alphabetical. Reading the list made me thing about who do I really like and who do I think has been important, historically or musically, to this game we all love to play. We all carry a list like this one in our hearts somewhere. We here at Gear-Vault would like to hear yours. We think it will make for an interesting discussion and allow us to get to know all of you a bit better.
To keep things manageable, make your list a Top 10 rather than 50 and post it as a comment on this article. Should be interesting. Anyway, here is mine, in random order:
Danny Gatton
Chuck Berry
Chet Atkins
Charlie Christian
 Brian Setzer
Django Reinhardt
Tommy Emmanuel
Freddy King
Your turn. Discuss.
Also, be sure to read our Hendrix vs SRV debate.