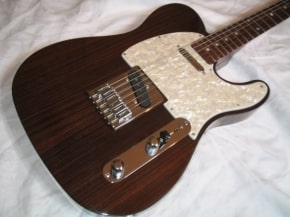 Canadian luthier Mike Carparelli, always one to push quality and design as far as they can go, has again surprised the guitar world with the introduction of the all-Canadian-made Carparelli Telecaster. These guitars are built using only the finest woods and component parts and are available only by custom order.
The Carparelli Tele's are hand-made in southern Ontario and are competitively priced, which should make them attractive to anyone into this type of guitar who wants something that is truly special. Because they are made to order, they can be set up to be vintage or modern, depending on how each player envisions them. This is a chance for all you Tele guys out there to really have it your way.
Each guitar is crafted to Fender factory specifications, finished by hand, and shipped out in 100% ready-to-play condition. Bodies are swamp ash or swamp ash and Indian rosewood with double binding and feature string-through-body construction, a choice of vintage or modern bridges, nitrocellulose lacquer finishes, and matching stainless steel slot head screws.
Necks are made from quartersawn Canadian Big Leaf Maple or Indian rosewood with a modern C-shaped neck profile. The necks also sport stainless steel and brass bi-flex truss rods, a compound radius design, vintage Kluson-style tuners, Tusq nuts, and two string trees. Pickups are a choice of a few different Seymour Duncan models. These are, in many ways, the ultimate T-style guitars and will make any picker who loves this design very happy. They are not, however, available in stores so those into the idea of owning one will want to contact Carparelli directly to place their order. Visit Dot On Shaft for more information.
Carparelli Telecaster Guitar