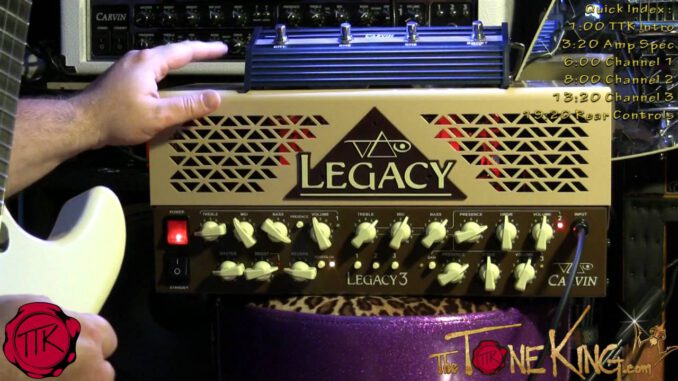 Legendary guitarist Steve Vai introduced his second generation of Carvin Legacy amps — a special amps series created especially for Vai and according to his specs — at the 2009 winter NAMM (National Association Of Music Merchants) show.
The Carvin Steve Vai Legacy II series comprises four pieces: a combo amplifier, a guitar head amp, and two 4×12 cabinets.
The Carvin Steve Vai Legacy II brings the legendary Carvin handcrafted details, with vintage and refined looks. The MKII Legacy amps have gotten a third channel, for a boosted clean tone that will dramatically expand you tonal expressions' palette, while letting you roam free from smooth and cheesy clean timbres down to a rocking grit and up to the high-gain searing lead sounds.
Carvin legacy II
–Here is a overview and some sample sounds. It isn't very thought out but I haven't had enough time to think out what I wanted to do and I have a gig to go so have to pack it up. – Performed by MrScott99
With TC electronics G Major 2 in the loop