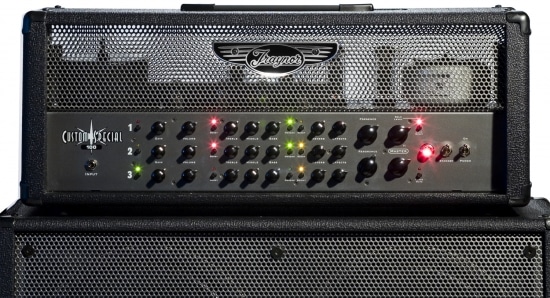 Traynor has always been one of those amp companies that were a bit under the radar of many guitarists. Although they do not have the mass-market presence of Fender, Marshall, or some others, Traynor does have a solid reputation for building good products and they certainly do have their fans in the guitar community.
Which brings us to the YCS100H. The YCS100H is a head and matching 4×12 speaker cabinet; has the potential to be the kind of thing many players dream of. The head is a true three-channel amp, with independent volume, gain, EQ, reverb, boost, and effect returns for each channel. This offers the most flexibility possible, letting players define unique sounds on each setting.
The amp runs on four EL34s which provide 100 watts of power in a Class AB configuration but can also be switched over to a 30-watt Class A design, which can be more manageable for rehearsal and recording. The preamp section of the 100H packs four 12AX7A tubes for tonal flavor. Effect users will be happy to know the YCS100H has an in-line pre-amp send / power amp return for in-line effects, and a side chain effects send with individual effects return level controls for every channel.
The YCS100H includes a distinctive Resonance control in the Master section which, when used with a proper speaker cabinet like Traynor's YCS412, lets users control the bass response of the amp and thin out or thicken up their tone at will. There is also an XLR direct out with speaker emulation to get the amp into the house PA without a microphone. There is even a headphone jack.
The YCS100H isn't just built with tone in mind, but also roadworthiness.
A solid plywood cabinet and all-metal chassis make the Traynor able to withstand the bumps and bruises of the gigging lifestyle and should give buyers confidence that their Traynor purchase will be able to go the distance. The amp also comes with a four-button footswitch to make real-time control of the many things it does a piece of cake.
The YCS100H has a retail price of $1249.00, which makes this an amp with a lot of bang for the buck and should help move it towards the top of any amp shopper's list. Those looking for a big-gun head and cabinet like this would do well to take the Traynor for a spin at their local dealer. If you you look around, you can find the Traynor YCS100H for under $750 bones.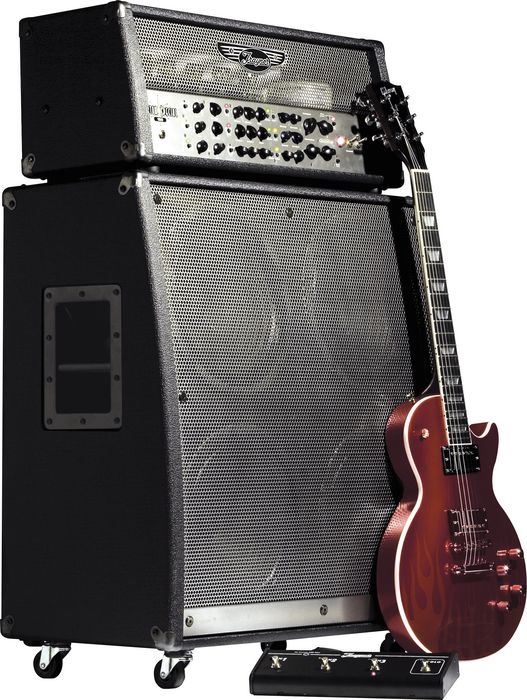 Traynor YCS100H Video Demo