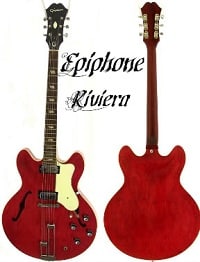 The Riviera is a perfect example of Epiphone's ability to rival parent Gibson in quality and playability. It's a kissing cousin to the Gibson ES-335, set apart by its mini-humbuckers and "Frequensator" tailpiece. Our review model's unfigured maple body and mahogany neck came with an amber-tint natural finish, giving this brand-new guitar a warm vintage vibe. (Other available finishes include cherry, ebony and vintage cherry sunburst). Appointments are tastefully restrained and neatly executed, and the headstock's long, slim shape is accentuated with chamfered edges that reveal elongated crescents of mahogany. The wide, oval frets are neatly finished, and the chrome hardware includes Kluson-style tuners.
The Riviera was strung with .011-.049 strings, including a wound G. The Frequensator tailpiece is designed to brighten strings relatively dark, and, yes, it really does work. The increased length of the three bass strings adds to their vibrancy, while the treble strings are slightly, but nicely subdued due to their shorter length.
The Riviera's mini-humbuckers sound a couple of pounds thinner than their full-bodied kin, revealing a clean tone full of wood grain, with a nice bite in the attack. The neck and combination positions are strum-friendly, while the bridge pickup has a jaggedness in the high end that would d Albert Collins proud. On overdrive, this translates to a very aggressive lead tone, with long and slow-blossoming overtones. The neck pickup, however, was probably in need of wax potting or replacement; overdrive sent it squealing.
THE END LINE
Mini-Buckers can be a tighter, more focused alternative to their full-sized parental units. If big-buckers are your preference, consider that this pretty guitar, with its fine natural sound (and economical price), could be easily upgraded with a set of replacement pickups.
If you're like me, then you're probably not into the deep read. I love these axes in all-white. You can see a sexy one at Gibson's website, though that one is a P93 Royal. Gosh they're sweet!
Epiphone Riviera Semi Hollow Guitar