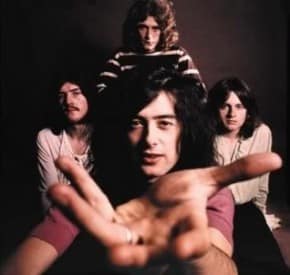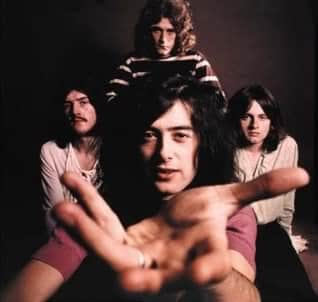 It was early in the summer of 1968 and Jimmy Page was deeply preoccupied. Tired and a little depressed, he retreated to his renovated Victorian boathouse on the Thames River to mediate on his past achievements and consider his options for the future. For several years he worked like a dog to build a reputation as one of England's finest session guitarists, playing on many records released in Britain in the 1963-1965 era, including albums by the Who, the Rolling Stones, the Kinks, Tom Jones and many others. He then parlayed his notoriety into year long stint with the Yardbirds, whose previous guitarists, Eric Clapton and Jeff Beck, had gone on to become full fledged legends. Page, it was assumed would be next in line. Unfortunately, due to the pressures of touring the Yardbirds disintegrated just as Jimmy was beginning to come into his own.
With his band and career in complete disarray, Page stood at a crossroad; he could resume his session work, return to art school, or try his luck at creating a new band. Page was determined to take a shot at the big time rock success, he decided to forge ahead. To that end, he carefully devised a blueprint for his ideal band. That he would actually see his plans come to fruition and in, doing so, shake the very foundation of rock, would no doubt have surprised Page.
"The band that I envisioned would combine blues, hard rock and acoustic music and top it all off with heavy choruses," remembers Page. "It would be a combination that had never been done before. Lots of light and shade."
In a stroke of cosmic luck, Page quickly found just the right men to help him achieve his rather ambitious musical goals. John Paul Jones, one of England's finest session bassists, keyboardists, and arrangers, was tired of the studio grind and asked to join Jimmy's new band. Page, recognizing Jones' talent and versatility, immediately enlisted the multi-instrumentalist.
"I was working on the Donovan album, Hurdy Gurdy Man, with John, who composed some of the arrangements. He asked if I could use a bass guitarist in Led Zeppelin. I knew he was an incredible arranger and musician. He didn't need me for the job; but he felt the need to express himself and figured we could do that together."
John Paul Jones concurs: "Page and I had done our fumbling about years before. We knew what we wanted to do and how to accomplish it, on stage and in the studio. We just wanted to get it right."
Vocalist Robert Plant, recommended by two of Page's friends, was also a remarkable find. The leonine Plant not only looked every inch the lead singer, but his volcanic, androgynous voice was suitable for everything from the raunchiest blues to the most delicate ballad. But perhaps Page's greatest discovery was a drummer John Bonham, who played with Plant in previous bands. Page has wanted a very powerful drummer, but Bonham was "beyond the realms of anything I could have possibly imagined. He was superhuman. Besides being one of the best drummers I've ever heard, he was also one of the loudest. He was the reason we had to start buying bigger amps. And his playing wasn't in his arms; it was all in his wrist action. Frightening! I still don't know how he managed to get so much level out of a kit."
With his dream band assembled, Page was so confident he decided to record the band himself and sell the results to the highest bidder. The quartet now officially named Led Zeppelin, assembled in London's Olympic Studios in November of 1968, with Page producing. After only a few weeks of rehearsal and short tour, they cut their groundbreaking debut in a mere 30 hours, at a cost of 1700 pounds.
But even on this tight schedule, the band just as Page envisioned produced plenty of light and shade. From the ominous heavy metal epic "Dazed and Confused" to folky "Babe I'm Gonna Leave You" to the quicksilver pop of "Communication Breakdown", Zep's power, versatility and imagination were undeniable.
"None of us had remotely the same record collection," says John Paul Jones, when asked about Zeppelin's eclecticism. "I think the problem with most modern bands is that all the band members listen to the same music, which makes for a very one dimensional sound. We never listened to the same music. I've always maintained that Zeppelin was the spaces between us. Bonham was into the soul music and Motown; I was into jazz, classical, and world music; Jimmy was into rockabilly, blues and folk; and Robert was into blues and Elvis Presley. Nobody on the outside of the band could understand this but we considered it valuable."
With the album finished, Page enlisted former Yardbirds manager Peter Grant to take Led Zeppelin to the bank. Using the guitarist's association with the Yardbirds as bait, the ruthless Grant worked out a five year worldwide distribution deal with Atlantic Records.
Under its landmark terms, the band was promised total creative control their records would be produced independently, without any label interference. The group would also control all the jacket artwork, press ads, publicity pictures and anything else that related to their image. The basic outline of this remarkable contract later influenced the Rolling Stones another Atlantic band, in their dealings with the label. Both bands retained complete control over all creative processes, leaving only the manufacture and distribution of the albums and to a limited degree, promotion to Atlantic.
"Atlantic was very keen to get me," says Page. "They were aware of my work in the Yardbirds because they were pretty hip people, so they were very interested. And when they heard the master, their reaction was very positive, I mean they signed us didn't they? And by the time they the second album, they were ecstatic."
On January 12, the same week the Beatles' "White Album" was No. 1 on the billboard charts, Led Zeppelin was released. It earned the album charts at 99, from which it jumped to 40, then 28. Its highest position was No. 10 but the album remained on the charts for 73 consecutive weeks. While Led Zeppelin's immediate impact was surprising, especially for a new band it was even more impressive considering the group's popularity was achieved primarily through word of mouth. There were no singles released from their debut, they had little radio exposure and practically no support from the rock press, who were caught off guard by the band's overnight success.