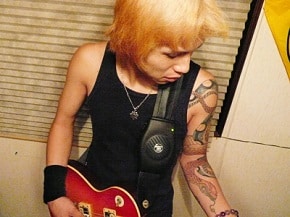 Ever wish you had the freedom to play your electric guitar wherever you wanted, even while walking, without being tethered to an amp? The Mighty Moe Strap Amp lets you realize this dream and do it for less than it costs to fill the gas tank on your motorcycle.
Mighty Moe consists of a battery-powered practice amp on a leather guitar strap. The amp features a three-inch speaker mounted in a durable plastic enclosure, and it can produce surprisingly loud tones, It can also operate for up to 12 hours on a single nine-volt alkaline battery.
The Ampstrap has a volume control and an overdrive intensity control that lets you dial in clean and distorted tones. The cable is sewn into the center of the strap, so you don't ever have to worry about forgetting your guitar cord. Mighty Moe even includes a headphone jack for using the amp in those quiet, private moments.
If you've ever wanted to become your hometown's version of the Venice Beach roller-skating Rasta guitar dude, the Mighty Moe Ampstrap lets you go totally mobile with all the liberation of playing guitar unplugged. Learn more at MightyMoe.com.
Mighty Moe Ampstrap: The Movie
Here are a few random Mighty Moe Ampstrap reviews
Mighty Moe Ampstrap
is a great thing to own when you just want to walk around or practice with a small band. I have only owned it a few days but its already amazed me, the distortion could be worked on but its a great step forward for more portable guitars. the headphones are great for just practicing those solos you haven't got yet and I think that with some more tweaks this could be a great thing for anyone to own." —
"There's not a lot of accessories for mandolins out there. No stomp boxes or special amps or crazy colors so the Mighty Moe (designed for guitars) is an excellent mandolin accessory. I play an (electric) mandolin with other loud acoustic guitar players. Mighty Moe gives me enough juice to be heard. I recommend it for mandolin." —
"Absolutely LOVE the idea behind this thing! In the future I'm sure they will work out reliability issues. Purchased this for my 10 year old son to take on vacation and play for his grandparents. It worked great around our house for a few days but did not survive the plane trip. Once there he plugged it in and nothing but static. This was particularly hurtful because he sees them only once a year and although we had sent them a few short vids, they had never heard him play in person. Wound up exchanging it for the mini Marshall MS-4 which I had intended to buy before this caught my eye. Again, EXCELLENT idea but the quality and durability just isn't there yet. For now I would have to recommend the Marshall MS-4 over the
Mighty Moe
. It's not as convenient but sounds much better overall and I believe will be more durable in the long run." —
"I purchased this amp-strap because I am a busy lady who has a home business with my husband. Every time I would get into to my practice sessions and have a really good riff going; the phone would ring, someone at the door, deliveries, etc., it was frustrating to say the least. So with this little amp strap, I am feeling real freedom after my first few practices with it. I gave the quality a lower rating because the leather is of a lower quality and the sound is not anything like my big amp but it is great for my shorter practice sessions. I really love the mobility this strap gives me. I would recommended this amp-strap especially for musicians out there who are practicing at different times during busy days." —
Mighty Moe Ampstrap Features