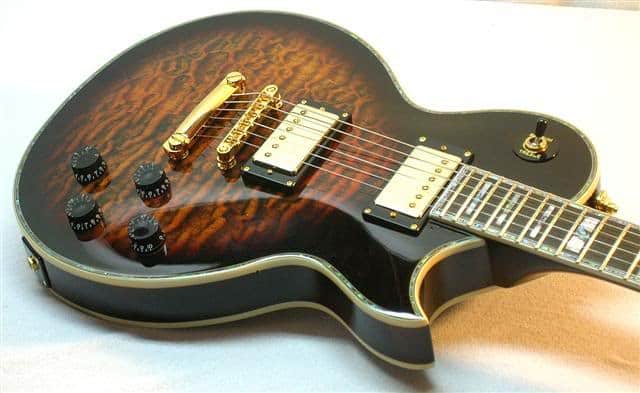 Dot On Shaft Guitars, which has quickly become Canada's fastest-growing maker of fretted instruments, continues its conquest of the music industry with the launching of its very own record label, DOS Records. The label, a subsidiary of Dot On Shaft/Carparelli Guitars, will join the company's two brick-and-mortar retail stores, its online store, and its music academy and makes Dot On Shaft Canada's first guitar maker to open a record company.
DOS is quickly becoming a major player in the Canadian music scene and the new record label will only add to that reputation. Dot On Shaft founder Mike Carparelli told Gear-Vault "It was inevitable to launch DOS Records seeing that over the past years we've received so much unsolicited music from artists around the world. The logical next step was to find the right people and launch another dream!" DOS VP Paul Merryweather will assist in this, utilizing his own experience and contacts within the music industry.
Dot On Shaft Records / Label
DOS Records will run its main operations out of Toronto, Ontario but is interested in more than Canadian bands. The label wants to hear any bands that feel they deserve a chance to be heard, no matter if they are from down the block or from the other side of the world.
Bands can submit through the DOS Records website, www.dosrecordlabel.com, which the company hopes will become a go-to web destination for aspiring musicians, as the site will also provide up-and-comers access to all aspects of record production, including audio and video recording, producers, engineers, songwriters, and studios. The goal of the label is to expose and celebrate new independent music and a world-wide level.
The label officially opened its doors in June, 2009 with the album release of its first signed band, littleSUNDAY. Dot On Shaft also endorses many fine musicians, including Lucas Rossi, Suzie McNeil, and Mick Box, guitarist for 70's legends Uriah Heep.
Dot On Shaft Dos-Kraken TE-Custom Guitar
Dated August 15, 2009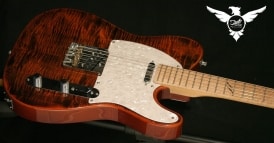 Dot On Shaft Guitars is quickly becoming Canada's online guitar store and guitar company. Founded by Mike Carparelli in 2005, DOS delivers on its vision of total customer satisfaction and produces a guitar for every level of budget and player and offers designs that are truly unique. One of their cooler instruments is the DOS-Kraken TE-Custom. Based around a classic T-style body shape with a rock and roll-approved reverse headstock, the Kraken is an up-to-date and sophisticated take on an iconic type of guitar. Additions to the Kraken include a AAAA flame maple top, a AAAA birdeye maple neck, and a pair of Kraken Custom pickups, the TE-1N and TE-1B. They also include a Graphtech nut, a Wilkinson WT3 bride, and Grover locking tuners. All this is wrapped up in a beautiful Tiger Eye finish and an included hard case.
The Kraken TE-Custom is a great example of how the use of the finest available components and craftsmanship creates an instrument of the highest playability and aesthetic beauty. It is clear that DOS places their players and customers first, by the way they make their guitars and by the reasonable prices they ask for them. The Kraken retails for $1499.00, which makes it a real steal for anyone in the market for this sort of guitar. If, perhaps, you are looking for a new guitar and are tired of the same old axes that have been on the market for 50 years, check out the Kraken or, for that matter, anything in the Dot on Shaft line. You may find them, as many players currently are, a new favorite and a breath of fresh air.
Update February 12, 2010:
Dot On Shaft Close Shop
Formerly known as Dot on Shaft guitars. This guitar is the original DOS Carparelli S2 before Mike Carparelli officially dropped the DOS brand to go by Caparelli Guitars, exclusively.
The company has boomed since their inception and their popularity continues to grow worldwide. This is a top of the line guitar with all the proper appointments and looks.
The Carparelli has the Michael Kelly Patriot -style neck heal, which makes playing very comfortable. I can't seem to track what Korean factory this guitar is crafted, my guess is either where Schecter Guitars have their axes produced or the factory where Agile Guitars are crafted. The playability is as nice as any Agile or Gibson Les Paul I have ever played, but I do think the price is bit high @ $1,400 for an imported guitar. Check out the images below.
Carparelli S2 No Mo
Discontinued