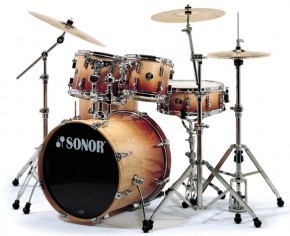 There are few things that can cause a young drummer to lie awake at night. All that bashing and crashing makes us pretty tired. Still, every so often an image will get stuck in our heads that we just can't shake. It lingers in our conscious thoughts and stirs our focus into a soupy mélange of desire and impatience. We must have it. We convince ourselves that we need it. Our loved ones try to comfort us, to soothe our pain, but in the end there can be only one solution…you're just gonna have to get them drums! Welcome to my distraction!
Sonor has long been revered as the elite upper-echelon of drum builders. For more than 125 years they have been on the cutting edge of product development and fine instrument craftsmanship. Sonor's creations are treasured by those who own them and faithfully trusted by working drummers grinding it out night after night. They have also become an essential part of the sonic tool box in many of the world's finest recording studios. If you're like me, you may not be willing to sell a limb, even if it isn't yours, in order to pick up one of Sonor's uber-high end drum kits. Well brothers and sisters put down that shovel, there is good news for all of us…
The Sonor Force 3007 Rock Set lives up to everything you've come to expect from these drum-wunderkinds, without compromising aesthetics, performance or your bank account! The 9-ply all-maple Rock Set is available in several beautifully distracting lacquer finishes that are sure to keep you up at night, and can be had with either slick chrome or sexy powder-coated lugs and hoops. But by far the best part of this kit is the sound… it sounds BIG! Big I tell Ya, BIG! Your guitarist may need a new amp after you start spanking these babies! These are not drums you can hide behind, they are very responsive at any dynamic level, easy to tune (and stay in tune thanks to Sonor's Tune Safe lugs) and have a nice warm focused sound. The Rock Set is configured with a 20×22 kick (oh yeah, your bassist may need a new amp too), a 6×14 snare, 8×12 rack-tom and a 16×16 floor-tom. Throw in Sonor's 400 series hardware pack as part of the deal (yes this puppy comes with hardware) and you're ready to rumble.
The Sonor Force 3007 Rock Set is a sleek and streamlined rock machine. If you're lying awake distracted, dreaming about your next kit (I personally like the Blue Sparkle or the Smooth brown Burst – hint, hint), go have a nice glass of warm milk and a cookie, when you wake up in the morning it'll all be better… but you're still just gonna have to get these drums.
For more info on all of Sonor's uber-awesome drums visit www.sonor.com
Sonor Force 3007 Video Demo