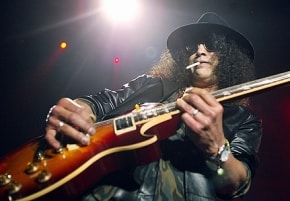 Ex- Guns N Roses and current Velvet Revolver guitarist, Slash, plays an eerie cover from the 1972 Italian-American mob flick, The Godfather. You'll notice Slash's tempo on guitar is a bit faster than the original "Waltz" version. Another part of the guitarist's style that really stands out is his aggressive and sustained bends–which brings the song to an entirely new level. Slash brought piano, bass and drums into the mix for an even more dramatic feel to the song. Watch both versions below and tell us what you think.
Slash- The Godfather Theme
Slash Plays The Ultimate Blues Solo on Guitar!