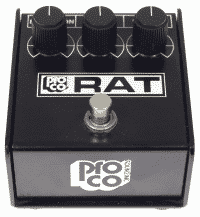 TheToneKing reviews the '85 Reissue Whiteface RAT on Video–From listening to my opening licks you can tell that something brutal came my way for me to check out. For old school players the Pro Co RAT was the stomp box of the 80s. Well, Pro Co has reissued their little baby with the Pro Co '85 Whiteface Reissue RAT. I use the word 'reissue' loosely because, unlike most reissues, this is essentially the same pedal that you would've bought back in the day.
When I pulled the gain almost all the way back, I had a blues tone that would make any bend wail. Many distortion pedals 'die' when you try to back off of the gain, but this one let the notes come through with amazing clarity.
The thing that really got me going, though, was when I started rolling the gain back up again. The first thing I thought of was Van Halen circa '78-'85 and instantly wished that I had taken the time to learn "Eruption" all the way through. It had all the articulation and dimension of Eddie's 'Brown' sound with a real bite.
When I turned down the filter knob, that let loose some of the blistering high frequencies. As I moved in the other direction, it took a bit off of the top but still left enough behind to cut through the mix. This little beast may look like a pedal, but it sounds more like a preamp.
I think the thing that distinguishes the RAT from most other pedals is the fact that it's not a one trick pony. You have your "metal" pedals and your "blues" pedals, but when you try and push them, they leave your guitar sounding like it's playing out of a 10 watt amp inside of a garbage can. The RAT gives you a range of sounds to play with. And guess what? They all sound good! How much is it? Check for price.
Pro Co's website claims that they didn't want to simply make a reissue that sounded like the RAT. They just wanted to make the RAT, and that's exactly what they did.
Written by Marc Johnson and The Tone King for TheToneKing.com
Advertisement