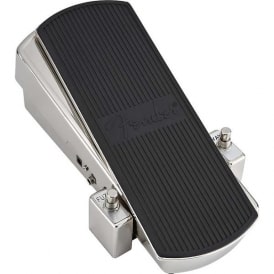 There are few Fender products with as much "indie cred" as the Fender Blender. Once thought of as an overly harsh fuzz pedal, the Blender, thanks to players like Billy Corgan of Smashing Pumpkins and Kevin Shields of My Bloody Valentine, is now a coveted, and rare, vintage pedal. Original Blender pedals routinely sell on auction sites for between $300-400. Like Fender has done with some of their guitars and amps, they have reissued this pedal to satisfy the demand that has surged past the supply on the vintage market.
The beauty of this pedal is that it does not sound like anything else on the market. It has a totally unique voice. This is a pedal made for players who want to create unique instead of copy.
Also good for Bass guitar
With a bit of experimentation, a player can get countless sounds out of this pedal, some that were intended and some that were not.The Blender can be used for leads by metal players looking for an ultra-aggressive tone. Fender claims this pedal "will replace other Octave/Fuzz pedals on pedalboards throughout the land."
(scroll down to see a video of the Fender Fuzz Wah Pedal in action)
Fender Classic Fuzz Wah
Technical Info:
Input Impedance: 1MOhm
Nominal Input Level: –20dBV
Output Impedance: Fuzz —> Wah = 1kOhm; Wah —> Fuzz = 50kOhm
Nominal Output Level: –20dBV
Power Requirements: 9VDC (center pin = negative); 10mA Minimum
Pedal Controls:
Wah Control—Tilt the pedal back and forth.
Fuzz Control—Rotate the pedal left and right.
Bottom Panel:
Effects Order—Switches the order of the effects in the signal path to provide two distinct sounds. Experiment!
Fuzz Volume—Adjusts the volume level of the Fuzz effect so that you can match the volume level of your guitar when Fuzz is turned off. Also try setting it for a Fuzz effect volume boost!
Features:
Fuzz Switch—Turns the Fuzz effect on-off.
Wah—Turns the Wah effect on-off.
Input Jack—Plug your guitar (or other audio source) in here. Un-plug the input plug from this jack to turn off the device and save power (very important) when not in use.
Output Jack—Connect to the input of your amplifier (or other audio device).
9V Battery—Open the battery compartment on the bottom of the unit by removing the thumb screw. Use alkaline batteries.
DC Input Jack—Plug in a AC- 9V DC adaptor (Not Included, see specifications) into this jack to eliminate the need for batteries.

Street Price: $199