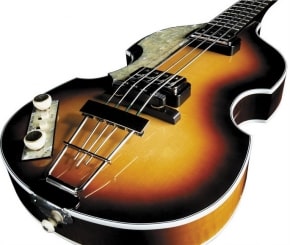 It's an old cliché, but there really is safety in numbers. This holds true in many aspects of life, but is especially true in the world of musical instruments. Trends may come and go, but the instruments that the majority of players choose to play usually are the best at doing their job. In the arena of bass guitars, for example, we all ultimately play a Fender, as Leo Fender invented the fretted electric bass guitar early in his career. There have been many innovations since those seminal days, as a quick glance through any online or brick-and-mortar music store will display, but the basic concept remains the same. It's always fun to see what the top-selling basses are at any given time, however, as it gives an indication as to what designs and feature are on the minds of the world's bass players: do they want a new, innovative flavor to their next instruments, or is tried-and-true traditional the order of the day? In that spirit, your faithful online gear daddy (that's me) decided to spend many exhausting hours poring over sales figures, rumpling catalogues, and pestering sales reps to find out what are the most popular four-string electric basses on the scene here in May of 2009. Why? Because they were there
Research will show the concerned shopper that vintage still seems to be the most sought-after design characteristic to many bassists. The old-school boom of the 1990's is still very much in effect and the most popular current axes are all brands and models (or derivatives of models) that were being produced 40+ years ago.

Fender Precision and Jazz Bass models are fundamental food groups in the bass world and anywhere you might go, they are still top sellers. Fender's American Standard Jazz Bass, ($1880 MSRP), for example, still offers players the chance to go in the height of 1960's style, vibe and feel, with a few modern conveniences thrown in for good measure. It features an alder body, choice of maple or rosewood fingerboards, a graphite-reinforced maple neck, 20 medium-jumbo frets, and two U.S. Jazz Bass single coil pickups. It seems for many players out there, Fender is still the bass of choice.
Price…………………………………………………………Check for Price!

The other iconic 60's bass, the Hofner Violin Bass, is still quite popular and shows how strong the influence of a certain Liverpool-based 4-stringer still is. Whether it is the more traditional semi-hollow body Icon Series ($499 MSRP) or the more modern H500/1-CT Contemporary Series bass (MSRP $1099), which has an additional internal sustain block to produce a more resonant sound, the Hofner bass remains a strong sales leader and an instant ticket to ride for all the Beatlemaniacs out there. Both basses feature Spruce tops, flame Maple back and sides, two pickups, and set necks.
Price…………………………………………………………Check for Price!

The Rickenbacker 4003 bass ($2159.00 MSRP) is a classic instrument in its own right and carries on an enduring design that once seemed like required hardware for any self-respecting bassist, especially for those of us who came up in the 1970's. The current version has all the appointments a Rick fan would expect, including neck-through-body construction, double truss rods, stereo outputs, deluxe triangular neck inlays, Schaller deluxe tuning gears, and, of course, the ever-so-elegant Rickenbacker curved body shape. It also features a Vintage Tone Selector, which activates a capacitor in the treble pickup's circuit to bring out more high end. Pushed in, it generates the familiar Rick sound but, pull it out, and the VTS adds bite and crispness.
Price…………………………………………………………Check for Price!

Epiphone's Thunderbird IV bass ($399-548 MSRP) is another oft-chosen instrument, and seems to appeal to the bad-boy/rocker types of players, who see its silhouette as a sort of hard rock Holy Grail. The T-Bird has an alder body, a 20-fret maple neck with a 34" scale, and a rosewood fingerboard. Electronics are two TB-Plus humbucking pickups, two volume controls, and a single tone control. Finishes offered include Vintage Sunburst, Pelham Blue, Silverburst, and Ebony. Playing a Thunderbird bass won't instantly transform your band into rock legends, but it is a step in the right direction.
Price…………………………………………………………Check for Price!

The Music Man Stingray electric bass ($2000-2300 MSRP) is a long-time favorite of funk players and is an ongoing player in the bass guitar market. Its single large-pole humbucking pickup, three-band EQ controls, and maple fingerboard give the Stingray a distinctive sound combining butt-shaking bottom with a growling articulate quality that lets every note be heard. Stingray players are often clannish and territorial about their basses and consider them to be the highest evolution of electric bass design. They are another typically over-engineered Music Man product and are truly built to outlast a lifetime of gigs.
Price…………………………………………………………Check for Price!
These instruments described above represent, based on sales figures, what Joe American Bass Player is buying and playing. Though they may differ quite a bit from each other, each is a time-tested design that has not only staked out a permanent place in the MI retail market, but, more importantly, has delivered the goods on stages and in studios around the world time and again. Things that don't work don't stick around long in the music world so, judging by longevity alone, any of the basses here chosen has to seen as one of the best.