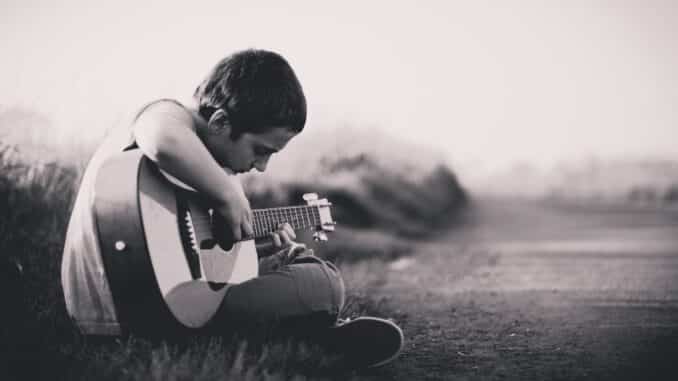 Most of us readers at Gear Vault remember what age we started playing guitar and what kind of guitar we first started playing. But many parents are stumped on which kids guitar to get their youngster. Rather than buying your child the ever so popular 'Guitar Hero' TV game system, why not persuade them to play the most popular American instrument, the guitar. Hopefully, this article will shed light on a difficult decision on which kids guitar to purchase.
Whichever guitar you chose, make sure you select a guitar that has been inspected and adjusted by a professional for easy playability.
Proper setup is key for a beginner starting out on guitar, regardless the age. One of the top reasons why someone gives up on guitar is because it is not setup correctly and makes it extremely difficult to play, and being a beginner, they'll never know the difference.
Pro-Tip #2 – When you find the guitar for your kid, be sure to get a metronome and have your child play along with it. It is imperative to develop timing when first starting out on the guitar.
Kids Acoustic vs. Kids Electric Guitars
First of all, you have to choose between an acoustic and an electric. This can be quite simple – just show your child pictures of both and give examples of how each of them sounds, or pay attention to the kind of music your child prefers. Both electric and acoustic guitars have their advantages and disadvantages.
Guitar Sizes for Kids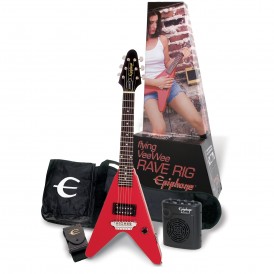 Smaller acoustic guitars are harder to come by than 3/4 sized kids guitars, but there is little difference in price. As a rule, 3/4 electrics and acoustics are for children from 6-11 years, and 1/2 acoustics and electrics are for children aged less than 6 years. For a more valuable investment, you can also get a 7/8 sized guitar for a 10-year-old, because the child can actually grow with of the instrument.
Pictured is a kids Epiphone Flying VeeWee Rave guitar rig
Kids Guitar Models
The Squier "Mini" is a solid and reasonably-priced 3/4 sized guitar. Along with three-coil pickups (so the child never gets bored, even when dashing the strings ad infinitum) and a pinned non-tremolo bridge, this Strat also makes use of the "cool factor", which you can't keep amiss when buying stuff for children. Overall, the Mini is as close to a real sized guitar as you can get for your kid, hence Squier (though Ibanez has the GRGM21) is the only other company that manufactures quality kids guitars.
The Squier MC-1 is a 3/4-size nylon-string mini classical guitar for kids and has a great sound you wouldn't expect for the price. The neck is considerably thinner than that of a regular acoustic, and the size is just right for kids. If you are about to send your child to music school, the alternative nylon string model MA-1 is a safe pick.
And lastly, if you have a daughter, she will love Daisy Rock which is available in blue and candy sparkle colors. The other models are contemporary and look like one would expect from a girl-guitar company; their thin necks make it easy even for smaller fingers to move around the fretboard.
But we do believe that these instruments are good kids' guitars, and all cost around or below $100 – except the blue sparkle, which makes up for it with its shininess. But take time and do some of your research to make the best decision for your kid's first guitar. They will remember it for the rest of their lives.
Top Five Kids Electric Guitar Packages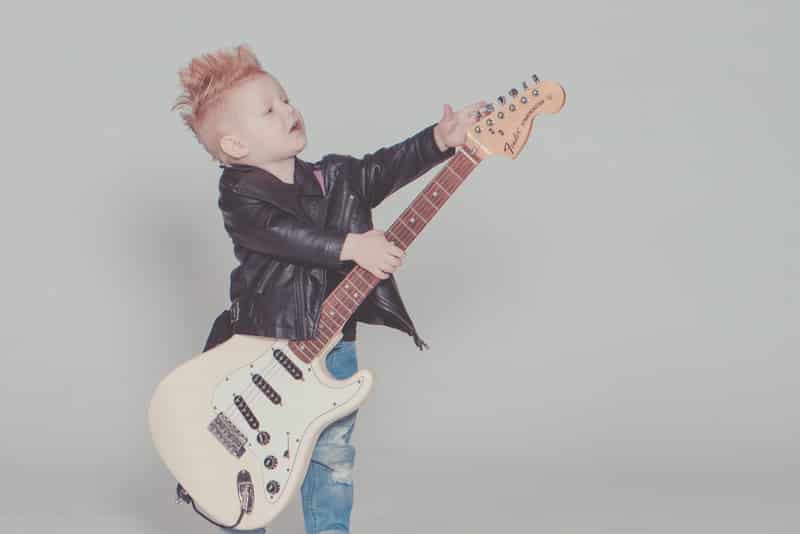 Discovering music and aspiring to play guitar can be one of the most wonderful experiences of childhood. Playing music with your children is also an excellent way for parents and children to bond with each other.
The quality of the guitar can often be the deciding factor in your child's choice to continue learning guitar or kicking it to the curb. You will want a guitar that is not difficult for your child to play. Choosing the right guitar to purchase for your kid can be a difficult task but with a bit of knowledge, you can ensure that your child finds the kids' guitar that will not cause them or you, any excess frustration.
Luckily for the parent, there are a plethora of options out there in regard to purchasing a kids guitar without breaking the bank. In this first section, we will be looking at five of the best kid guitar packages out there.
5. SX RST 3/4 Short Scale Guitar Package

The ¾ scale SX RST is a quality electric guitar designed for children. The RST Package is a great bargain at $99.00 for the guitar, 10 Watt practice amp, gig bag, shoulder strap, cable, and instructional DVD. The guitar features a dual cutaway body made from solid Alder. A sleek Maple neck and Rosewood fretboard give this guitar stellar playability at an incredibly economical price. The guitar itself is lightweight and contoured for maximum comfort. The GA-1065 Guitar Amp features 10 Watts of power pushed through a 5.5" speaker.
4. Ibanez Jumpstart Mikro Electric Guitar and Amp Package

The Ibanez Mikro Electric Guitar Package comes with the Ibanez Mikro Kids Guitar, an amplifier, a tuner, and cables. The Mikro features a 22.2″ scale neck with relatively low tension, ensuring that the strings are easy to keep under control. The smaller sized body also makes it a great axe for kids. Coming in at around $180.00 this guitar package provides a quality instrument and amplifier at an exceptionally reasonable price.
3. Fender Squier Kids Guitar Package

A recognizable name and a recognizable guitar at a bargain price. The Fender Squier Mini electric guitar is a ¾ scale guitar with a Stratocaster style body featuring a bolt-on Maple neck with a Rosewood fretboard. This package comes with a Fender Tone Master Mini Amplifier. The amplifier is a single watt amp about the size of a walkman and produces an incredibly satisfying sound. The Fender Squier Mini package comes with the Tone Master Mini Amplifier, gig bag, guitar picks, guitar cable, and shoulder strap.
2. Epiphone Flying VeeWee Bullseye Zakk Pakk Electric Guitar Value Pack

Designed by the one and only Zakk Wylde, Epiphone's Flying VeeWee Bullseye Zakk Pakk delivers a quality instrument and everything needed to start playing right out of the box. Aimed at children and beginners alike, the Epiphone Flying VeeWee Bullseye Zakk Pakk is a very capable setup and will not cost you a fortune. Retailing at around $300.00, the package includes a Marshall MS-4ZW micro stack amplifier that is able to produce very clear tones. It is the perfect practice amp for any beginner. The Flying VeeWee Bullseye features a mahogany body with a rosewood fingerboard. Twenty-one frets and an Epiphone 700T humbucking pickup will ensure hours of rocking.
1. Epiphone Les Paul Pee Wee Zakk Pakk Kids Guitar

The Epiphone Les Paul Pee Wee is another guitar made by Epiphone that is geared towards younger musicians. Also designed by guitarist Zakk Wylde the Les Paul Pee Wee features the classic Les Paul guitar body style and delivers that rich Les Paul tone. The Les Paul Pee Wee also comes with the Marshall MS-4ZW micro stack, a gig bag, and cords.
While the quality and ease of play of the guitar can make all the difference in the learning process, in the grand scheme of things it will ultimately be up to your child to continue pursuing music in their lives, and you should never force your child into music. By introducing your child to music at a young age you allow them the ability to create a lifelong passion that can enrich their lives for years to come.
Kids Electric Guitars for Your Soon to Be Malmsteen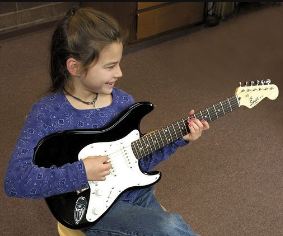 Do you think your child could be the next Slash or Orianthi? When it comes to musical talent, the sooner you help your child harvest their inner musical capabilities and let it bloom, the better!
This is especially true for learning how to play the guitar and to do this, you will need to get your child an electric or acoustic guitar, preferably as soon as they can hold the strings down.
In this section, we are going to be looking at kids' guitars that are neither too big for your child nor too big for your pocketbook.
Young child electric guitars are usually referred to as ½ or ¾ size guitars and are best suited for children who are under 10 years old.
Of course, the younger/smaller your child is, the smaller the guitar needs to be. The guitars discussed below are built especially for young children — soon to be legendary guitarist — and are top products for the money. Since these guitars have smaller necks and are scaled-down, your child will easily be able to master the basics of the guitar.
These kids guitars are not cheap toys, they come equipped with the same equipment that a standard electric guitar comes with; only on a smaller scale. They will not produce the same level of sound and tones as full-sized guitars do, of course, but they will get your child started. Without further delay, let's look at the three models.
Top 3 Small Child Electric Guitars
Squier Mini Strat
Perhaps the best child electric guitar that you can get today. The Squier comes equipped with a double-cutaway body, rosewood fingerboard, 20 frets, maple neck 5-way switching, 3 single-coil pickups, single-ply white pickguard, master volume and tone controls along with a 6 saddle hardtail bridge.
This guitar has everything that you can offer your child and then a lot more! Priced at $100 bucks, it should not be too much of an investment on your part while giving your kid everything he/she needs to "learn guitar" right now.
Ibanez GRGM21 GIO Mikro Electric Guitar
Following in a close second is the Ibanez Mikro. Retailing in at $130 this guitar comes in Jewel Blue, Apple candy red, and standard white and black colors. The GRGM 21 GIO features a 22.2-inch scale, maple neck, rosewood fingerboard, 24 medium frets, alder body, dual Powersound humbucking pickups, and a hardtail bridge.
While it's sound quality is pretty good, the reason I put this guitar in second place because it lacks a tremolo bar, which, being an Ibanez, it should have one. However, many people have given it decent reviews online and you will not at all be disappointed by getting your child this mini-electric guitar. What's cool about this kid's guitar is the color schemes available to choose from. You should easily be able to find an attractive color for your child.
Squier Hello Kitty Mini Strat Electric Guitar
Now you probably guessed by the name that this one is for girls, and you are right. The Squier by Fender features a small scale neck, 3 single-coil electronic pickups, rosewood fretboard, a hardtail bridge, and master volume and tone controls. The guitar is available in black and pink colors with custom Hello Kitty Graphics. At a $150 bones, it is a pretty decent guitar, however, I was not that impressed with the tuning system that comes with this guitar and also not too fond of the shape, but picking on the shape is splitting hairs. Apart from that, the guitar offers good quality sound, just as good as the Squier Strat Mini.
Best Kids Metal Guitar For Your Young Shredder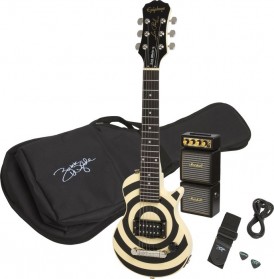 The Epiphone PeeWee Bullseye Zakk Pakk electric guitar value pack is a combination of a Les Paul guitar and a Marshall amp. The Les Paul guitar is made in a smaller design, allowing beginners and kids to learn to play on a simple to use guitar without sacrificing quality. Even though the guitar and amp are smaller than a traditional set, they are still packed with features that give you all that you are looking for in an electric guitar and amp.
Les Paul Pee Wee Features
The Epiphone PeeWee Bullseye Zakk Pakk electric guitar value pack includes a guitar with Zakk Wylde's signature bullseye design on a rounded body guitar. The mahogany body of the guitar is paired with a rosewood fretboard, and completed with a bolted mahogany neck. All of the hardware is high-quality nickel, ensuring your guitar lasts and lasts. With 21 medium-jumbo frets and 14:1 ratio covered tuners, you have all that you need to rock out with this set.
The amplifier that is included in the Epiphone PeeWee Bullseye Zakk Pakk electric guitar value pack is a micro full stack from Marshall, one of the leading amplifier companies in the nation. The amp is packed with three controls for volume, gain, and tone. You will love being able to grab your amp and guitar set to practice, without the need to carry around hundreds of pounds of equipment. This set is perfect for those who live in communities since the amp is a quieter version that can be played anytime.
Epiphone Les Paul Pee Wee High-Quality Sound
One of the advantages of the Epiphone PeeWee Bullseye Zakk Pakk electric guitar value pack is that it is priced affordably at around three hundred dollars for the set, but still has the quality that you expect from companies like Les Paul and Marshall. The set is packed with great features that allow you to play in a wide range of musical styles, and the quality is nothing less than excellent concerning sound. The guitar set is perfect for young kids.
The Bullseye value pack also comes with accessories, including a gig bag, cords, and pics for a complete set. If you have been looking for the perfect grab-and-go set, the Epiphone Bullseye Zakk Pakk electric guitar value pack is all you need and more.
Epiphone Flying VeeWee Bullseye Zakk Pakk Electric Guitar Value Pack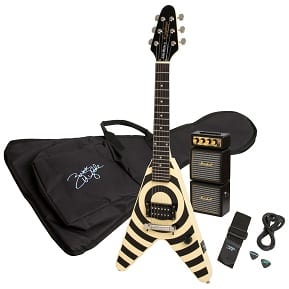 If you are just learning to play guitar and want to have a professional quality metal amp and guitar, then you should definitely consider the Epiphone Flying VeeWee Bullseye Zakk Pakk. This set includes an electric guitar, an amplifier, a gig case, the cords needed for connecting the amp and guitar, and three guitar picks from the Zakk Wylde signature line.
The Whole Epiphone Guitar Package
The Epiphone Flying VeeWee Bullseye Zakk Pakk is designed by Zakk Wylde, who is one of the best guitar players in the music industry. The guitar is an electric guitar that is half the size of the typical guitar, making this package perfect for kids and beginners just learning to play. The flying V design is extremely popular, and this package also has a flying V electric guitar with a custom bullseye design. No electric guitarist would be able to play without an amp, so the package also contains a Marshall brand micro full-stack.
The Epiphone Flying VeeWee Bullseye Zakk Pakk electric guitar value pack is a great bargain. The flying V electric guitar is made from mahogany, with rosewood fingerboard. The hardware is all made from nickel, and the guitar features 21 medium-jumbo frets. There is also a signature Epiphone 700T humbucker pickup on the guitar. The amplifier is a Marshall MS-4ZW micro stack system that can produce a clear rock sound, but that is also small enough to play during practice at home.
Using The Bullseye VeeWee Zakk Pakk
The Epiphone Flying VeeWee Bullseye Zakk Pakk electric guitar value pack is an awesome starter set for kids and makes a perfect gift for anyone who is interested in learning to play the electric guitar. The smaller size is just right for kid's hands since there is the need to wrap your fingers around the neck to hit the right chords. The retail value of this bargain pack is only around three hundred dollars, so it is really an affordable option, as well as being built on some of the most trusted names in the music industry.
The high-quality components are sure to be well-received when you buy the Epiphone Flying VeeWee Bullseye Zakk Pakk electric guitar value pack for a child in your family. This set isn't just for kids, though, there are plenty of adults who love the Epiphone and Marshall combo. The sound is amazing, and the quality of this set can't be beaten.
Epiphone Flying VeeWee Zakk Pakk Electric Guitar Value Pack