If so, you have just a little over 22 day to click the 'buy it now' button on eBay, providing nobody beats you to it. This is the first Ibanez Universe (7 string) prototype guitar to ever be shopped on eBay. The guitar is being sold by Vai's former engineer, Richard Landers, to fund medical expenses in the family. (Thanks to iHeartGuitarBlog for the heads up.)
ORIGINAL Ibanez Prototype Universe Jem 7 String Guitar
"Vai got his first 7-string, a prototype, while he was working with Whitesnake, and played that guitar on most of Whitesnake's 1989 album Slip of the Tounge. He suggested a few subtle changes – the original neck was a little too chunky, for example – and the prototype was soon honed into the Ibanez Universe 7-string."
– Snipped from: October '98 issue of Guitar Player Magazine Steve Vai Interview.
Here's an image of Steve Vai playing the guitar: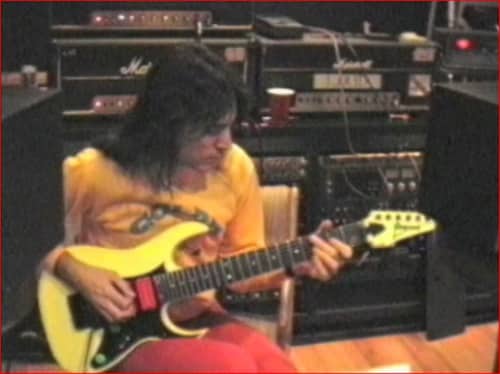 Click
HERE
to see the guitar live on eBay
"Here is the ORIGINAL Prototype 7 String guitar as designed by the mystical and magical guitar wizard and modern-day Mozart of melody & noise, STEVE VAI. (Credit also to the fine folks at Ibanez for helping Steve realize his vision of what would become a new entity in the evolution of the guitar.)
We are auctioning this guitar on behalf of Steve's long-time engineer, Richard Landers, whom he gifted it to in 1990. According to Richard, the guitar was received with much appreciation and stored away and has now only seen the light of day some 20+ years later. He never intended on selling it but is now only considering it's sale in order to raise funds for some medical needs within the family.
The bridge of the guitar is not one piece, but actually TWO bridges which have been cut and put together to form what is probably the first 7-string locking tremolo. The nut has been fashioned in this way also. You can can see the seams in the close-up photos. Also, the 21-24 frets are scalloped which I understand are not standard on any model Universe guitar."